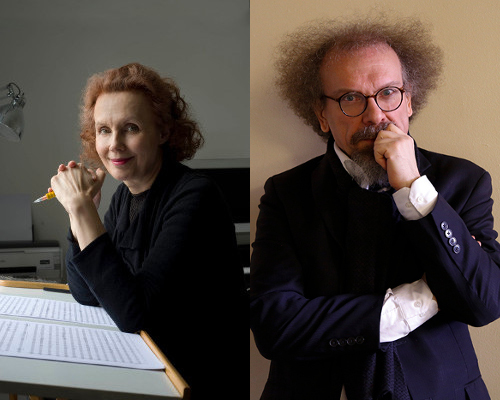 Kaija Saariaho and Jean-Baptiste Barrière, our two visiting guest mentors
The Soundstreams Emerging Composer Workshop is an opportunity for six talented young composers to converge in Toronto, to receive mentorship as they compose a new piece of music. Each year of the program features a different international visiting composer, a renowned Canadian resident ensemble, and a local mentor composer. The workshop culminates in a performance of works by the participants.
Thanks to the support of the Mary Margaret Webb Foundation, all donations to the Emerging Composer Workshop made before April 17, 2015, will be matched. This means your donation has twice the impact on this innovative workshop. Your donation of $100 becomes $200, in support of the young artists at our workshop, who are the future of contemporary music.
Please give now, and double your donation's impact, to help us reach our goal of $5,000!

Soundstreams Emerging Composer Workshop 2014 featured six composers, Ye Xiaogang as international guest composer, the Cecilia Quartet as resident ensemble, and Juliet Palmer as mentor composer
Our 2015 workshop will take place from May 14 to 24, and will host two visiting guest mentors: prominent Finnish composer Kaija Saariaho and pioneering electronic-music composer Jean-Baptiste Barrière. Combined they represent a spectrum of approaches between acoustic, electroacoustic, and electronic music—a wonderful opportunity for composers who are increasingly fluent in both worlds.
These visiting guests will be joined by Toronto-based composer Adam Scime, who will serve as the workshop facilitator, and a resident ensemble featuring some of Canada's finest: Carla Huhtanen, soprano; Leslie Newman, flute; and Stephen Sitarski, violin. The visiting composer in the workshop this year hail from a variety of countries and backgrounds – learn more about these talented individuals here.
Adam Scime, recent winner of the Canadian Music Centre's 2015 Toronto Emerging Composer Award, was a workshop participant at our first ECW in 2013. We asked Adam how the workshop helped him as a composer and furthered his career.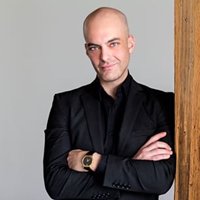 The Soundstreams Emerging Composer Workshop has not only enabled me to grow as an artist, but most importantly, it has given me the opportunity to build a stronger connection to my community through my labors as a composer. Soundstreams has provided me with the invaluable experience of connecting with like-minded artists, performers, and community members as a workshop participant. In taking the next step and acting as the Workshop Composer Facilitator, I can give back the gift of community to the new participants, a gift that Soundstreams continues to provide to me, and to many others.
It is very important to me that I help to strengthen the community in which I operate using any resources available. I strongly believe that when we contribute to a community through labor and generosity, the community grows and is able to reciprocate equal amounts of labor and generosity with an ever-broadening scope.
There has never been a better time to donate to Soundstreams, to help support the Emerging Composer Workshop. All donations made before April 17 will be matched, doubling the impact of your financial gift. Please donate, to help support the next generation of contemporary composers.
Donations can be made via Canada Helps, or by calling Lindsay Marshall at 416-504-1282 ext 108.