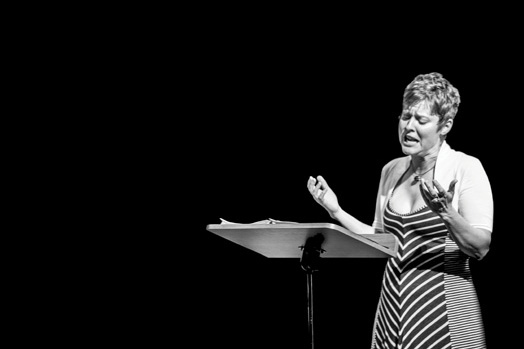 The Canadian premiere of David Lang's The Whisper Opera will feature New York's International Contemporary Ensemble (ICE) and Tony Arnold as sole soprano. Hailed by The New York Times as "a bold and powerful interpreter," Tony has gained international acclaim for sparkling and insightful performances of the most daunting contemporary scores. As a member of ICE, she has received critical acclaim, and is known as one of the most recorded contemporary singers in the world. She has collaborated with many of the most renowned composers of our day.
We caught up with Tony over email, in between performances of The Whisper Opera at Duke University in Durham, NC, and Rotterdam, the Netherlands. Read on as we discuss how she became a singer, what inspired her distintive nickname, and how she prepares for performances.
Soundstreams: What inspired you to become a singer?
Tony Arnold: Singing came really late in the game for me, and there were a lot of formative experiences that inspired me to become a musician first. I was hungry to play any instrument I could get my hands on when I was very young. I remember being so intrigued by a documentary about Charles Ives when I was 12 years old [and thinking], could you really write music in two keys simultaneously? Wow, that was a big idea to me.  
I got to explore so many ideas in composition camp during the summers in high school, where I had this great teacher who widened my musical world way beyond the 19th century canon. It was at this camp that I first heard a recording of Jan DeGaetani singing the music of George Crumb, which was mind-blowing. How did she make those sounds? You can notate sounds like that? How did Crumb even imagine that this was possible? My curiosity was piqued, and that set so many things into motion for me. Through college as a pianist, as a singer, and an orchestral conductor, I was hungry to learn about all music. It wasn't until I was 30 years old that I began to pursue singing as a focus, and not just singing, but singing new music.

Tony Arnold performing Madrigals Book III (1969), by George Crumb
SS: You're known as "Screecher." What influenced that descriptive nickname?
TA: Well, it began as a kind of joke. I needed a URL for my website (and this was before websites were a standard part of any artist's publicity package). I was beginning my career singing contemporary music, and well aware of the common knock about this music sounding "un-vocal" or " screechy." So I thought, let's play on that: thus, a screecher was born…. or at least [my website] screecher.com was born.
SS: You are one of the most recorded singers of contemporary music, with over two dozen albums. What was one of your favourite pieces to record?
TA: I love the recording process, and it is difficult to choose any favorite. But perhaps a special one is the complete songs with opus of Anton Webern (which will be released on Naxos in April). My collaborator Jacob Greenberg and I did this recording at the Academy of Arts and Letters in NYC, a lovely hall in which I can make the softest sounds possible with complete confidence that the microphones will capture the full spectrum. The producer and engineer were stellar, and the entire process was intense and meaningful on many levels. I just love singing Webern; nothing fits my voice better than this crystalline music.
SS: You've performed The Whisper Opera all over the world (including recent performances at Duke University and in Rotterdam). How did you get involved with this piece?
TA: As a member of the International Contemporary Ensemble (ICE), I am fortunate to have many things come my way because of the great network of collaborators that ICE attracts and inspires. David Lang and ICE had been in conversations about a range of projects, and The Whisper Opera was one of them. We were so fortunate that Peter Taub at the Museum of Contemporary Art in Chicago took a risk on this show, and made an unlikely piece come to life.

David Lang explains the thinking behind The Whisper Opera,
commissioned by ICE with Tony Arnold as sole soprano
SS: The Whisper Opera is an intense and physical piece, which requires long periods of whispering that can strain your voice if not done properly. How did you prepare for this role and what techniques do you use in your performance?
TA: Mostly I am looking to stay as relaxed as possible, and to use only the minimum amount of muscular effort required to whisper. This requires conscious releasing of the muscles in my neck, throat, and my tongue while whispering. I try to maximize the friction of consonants over the vowels — the more energy I put into a "ssss" or a "shhhh," the less pressure I feel when I have to whisper on an open "aaahh," which can be tiring. Finding the colors of the words and then connecting them to the bottom of my breath (in my belly) helps a great deal too.
"Performers are both focal points and conduits of universal emotions that audiences project onto in very personal ways. That's part of the contract between artist and audience."
SS: Lang's basis for The Whisper Opera was to explore the tensions between our online and private selves. How does this theme resonate with you as an artist?
TA: There is always a tension between outside and inside, between public and private. As a performer, often times we are asked to be the voice of private thoughts that may or may not be similar to our own. Performers are both focal points and conduits of universal emotions that audiences project onto in very personal ways. That's part of the contract between artist and audience. The Whisper Opera offers up an experience of a wide range of emotions that are not connected in any kind of specific narrative. It has challenged me to be flexible and [to be] in the moment, not to plan, but to be open to how each moment passes and changes me as it does.
SS: What is one thing about your private self that people would be surprised to learn?
TA: That I am an introvert.
LIGHTNING ROUND
Favourite city: Chicago
Worst airport: It's a tie between JFK Delta Terminal (New York City) and Frankfurt Airport (Germany)
Guilty pleasure song: Anything by Queen [editor's note: Tony is now the fourth person to pick Queen as their guilty pleasure song! We're beginning to sense a theme…]
Best concert hall: Philharmonie Köln, Germany
Favourite restaurant: Ras Dashen (Ethiopian restaurant in Chicago)

Official music video by Queen for "Don't Stop Me Now"
---
Tickets for The Whisper Opera are on sale now in limited quantities, as only 52 people can experience each show. Join us for the Canadian premiere of the most intimate opera you'll ever see, at The Theatre Centre, February 26 to March 1. BUY NOW!