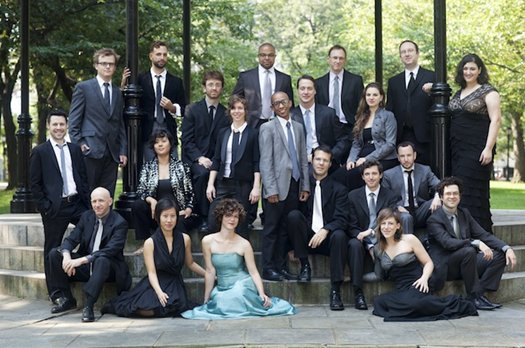 The International Contemporary Ensemble (ICE)
Photo credit: Carrie Schneider
The Drama Department of Etobicoke School for the Arts (ESA) is presenting A Doll's House from February 20 to 28 at The Theatre Centre, at the same time as The Whisper Opera. In preparation for sharing the backstage this February, students from ESA asked the International Contemporary Ensemble (ICE) from New York City questions about the process of The Whisper Opera, its challenges and what the performers took away from this intimate contemporary opera. Then ICE reciprocated by asking their own questions of the students!
ESA: How was the process of this show different from others you've been a part of?
ICE: The Whisper Opera was unique in that it was created by all of us in a barn in the Catskills mountains of New York State! David Lang brought us beautiful prompts consisting of text, music fragments, and a very interesting premise/concept about the quietest possible sounds. Then Jim Findlay (director) added a fascinating proposal for how to realize David's concept. ICE members were equal contributors in this collaboration in terms of sound. But we also added interesting ideas about scene design (hanging bass drums), blocking, and even some of the order of the scenes! In short, the process was an organic conversation that became an Opera. It is one of the most natural collaborations that ICE has ever undertaken.
ESA: What are the challenges you've encountered in not having text?
ICE: In terms of memorization, this piece is extremely difficult! The text is a compilation of near-random snippets of text created by Google's "auto-complete" function. As such, there are very few mnemonic devices to help with memorizing these long stanzas of text. We have a lot of funny inside jokes that help us to keep them in our minds!
ESA: What have you learned about mime during rehearsal?
ICE: The Whisper Opera does not employ the use of traditional pantomime gestures.  And since there are actually words being spoken (although the audience can't really hear very many of them), the communication is not strictly non-verbal.  That being said, with the verbal component so fragile and remote, the parameters of physical gesture become magnified.  Even the tiniest gestures in this setting have great meaning, and we have to take care to not make too many gestures, because it would be like adding a bunch of white-noise that would detract from the crystalline and sparse landscape.  It is a challenge to be patient and allow a lot of space between events, and trust that "less is more."
ESA: What would you like the audience to take away from this show?
ICE: I think the most interesting physiological takeaway from The Whisper Opera experience is a "recalibration" of the "noise floor." Our world is constantly inundated with an intense density of environmental sounds (traffic, dialog, etc). The Whisper Opera is a way for your ears to refresh and open up! There are also profound personal and emotional takeaways from this production but they are unique to each audience member.
ESA: What will you take away from this experience in respect to your personal growth and development as a performer?
ICE: This piece brings a level of performer-audience intimacy that is pretty unfamiliar to us. We all have decades of experience playing to audiences that are close to our stages or to our instruments. But this is at another level of proximity and intensity.
ESA: What drew you to this project?
ICE: David Lang told us his fantasy of an Opera that could barely be heard and we were hooked!
Kivie Cahn-Lipman, cello: What draws me to the piece is the quiet poignancy of the words being whispered.  The crowd-sourced nature of the text, carefully excerpted by the composer, brings out the human universals being invoked.
Tony Arnold, lead soprano: Any time I collaborate on a project like this from the ground-up with my colleagues, I leave the last performance feeling enriched and energized, and changed by the process that has required trust and deep listening. I feel more open and more in touch with a "still-point" within me, a place that need not move outward to find its expression.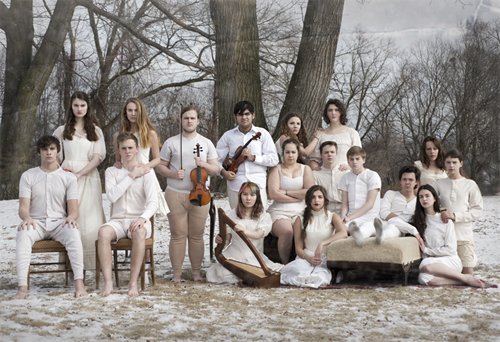 Students from the Drama Department of Etobicoke School for the Arts (ESA)
Photo credit: Aden Solway
Time for a switch! ICE and ESA turned the tables, and ICE asked the students questions about modern theatre, the devaluing of arts education and keeping an open mind.
Ross Karre, director of production of ICE, percussionist: How essential have the arts been to your development as a student, as a person, and as a citizen?
Andreana Callegarini-Gradzik, who plays one of the Noras: You can usually find bits of yourself in any character you approach, and you can expand on those parts for the role. I've found that the more characters I play, the more I see things from others' eyes, and I feel compassion, or at least understanding for people I'd never thought I would have going in. As a person in the world, it lessens my criticism and stops my focus from going inward.
Joshua Rubin, co-artistic director of ICE, clarinetist: We're fighting a tendency in the American public school system which increasingly devalues the arts in favor of "STEM" (science, tech, engineering, and match) subjects. What would you say to a politician to convince them that the arts are essential to your education?
Quinn Tabbitt, who plays Anna: The arts are an amazing way to express yourself. I know a lot of people that have gone through some tough things that don't have an outlet. I'm very lucky in the way that I have acting and singing to portray a different character and be someone else for a period of time. I was fortunate enough to find that way to let things go, but a lot of kids haven't discovered that yet.
Tony Arnold, ICE, soprano and lead of the Whisper Opera: When working on A Doll's House, what was your biggest challenge as an individual artist/actor? What was your biggest collective challenge as a company of performers?
Adam Finkelman, who plays one of the Krogstads: My biggest personal acting challenge might have been learning the Tarantella. I don't pride myself on my dancing ability and therefore partially refused to learn it. I'm happy I got over my fear and could spend more time focusing on my blocking. I think a big challenge for a group of young actors and artist is to focus on listening rather than talking. I think we're getting there despite the slight speed bumps.
Kivie Cahn-Lipman, ICE, cello: When presented with experimental performing arts such as the Whisper Opera, what do you do to keep an open mind and interpret such radical methods and styles?
Georgia Findlay, who plays one of the Noras: Some ideas are so inventive that they have to be seen to be believed, and so when I approach a piece of experimental art I try to go into it without any expectations based on convention, because if I allow myself to just take it in as it is I might find something remarkable that I would never have thought of before.
---
Limited tickets are still available for The Whisper Opera. Visit our page to learn more and purchase tickets.