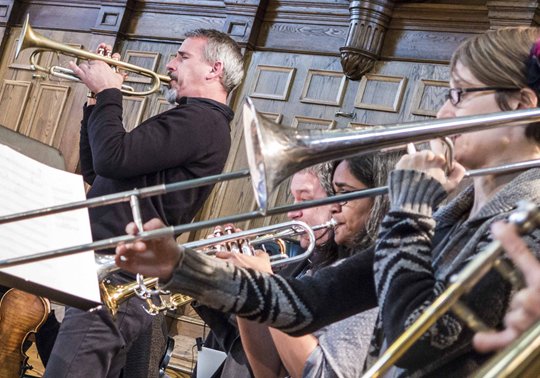 Soundstreams would not exist without the support of our dedicated patrons. We are thankful to our many friends, volunteers, and supporters, who attend our concerts and Salon 21 series, discuss new and contemporary music with us, and whose time and donations support Soundstreams artists and events.
Penelope Tyndale is a long-time Soundstreams supporter and a member of the Friends Circle. She is an avid music lover who attends both our Salon 21 series at The Gardiner Museum as well as many concerts in our mainstage series.
We spoke with Penelope (at Salon 21: Old Instruments, New Music below) about her interest and involvement with Soundstreams, and she shared the following: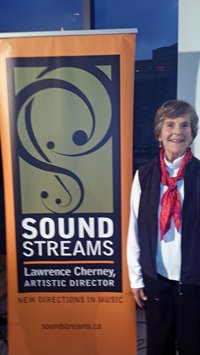 I admire Soundstreams for the strong vision they have established and maintained for many years now. Living Canadian composers and musicians are encouraged, and their work is commissioned and performed. [There are] frequent opportunities to meet the public in smaller events such as Salon 21 and the pre-concert chats. I very much appreciate the global aspects of exchange performances, and the exposure to interesting new music from other cultures, as well as music education opportunities for children, budding composers, and musicians.
On a personal level, I have enjoyed the friendliness and helpfulness of all the staff, the thrill of new discoveries, the adventure of never quite knowing what each event will introduce, and increasingly meeting and engaging with others on this journey of musical discovery. I've loved being invited from time to time to sit in on rehearsals. I enjoy the email communication with articles, and access to recordings. 
A long-term favourite of mine was Paul Frehner's Seven Last Words of Christ, which premiered in March 2008. My recent favourite concert was Passion After St. Matthew in April 2014. Featuring members of the Australian Art Orchestra, the ensemble paid homage to J.S. Bach's classic oratorio, St. Matthew Passion. I had been afraid it would spoil Bach's original piece, but found myself totally caught up in it and very moved. I have enjoyed watching it several times on line since, and like the video very much for the close-ups. It was an outstanding evening.
Loving new music is often a rather lonely journey as most of my friends prefer to listen to music already familiar. [I am very thankful] to Artistic Director Lawrence Cherney, and all of you, for providing such rich and lively experiences.  
Help keep the music playing at Soundstreams – become a donor today! Learn more about donating to Soundstreams.
   
Soundstreams presents Passion performed by members of the Australian Art Orchestra and Soundstreams Creative Orchestra