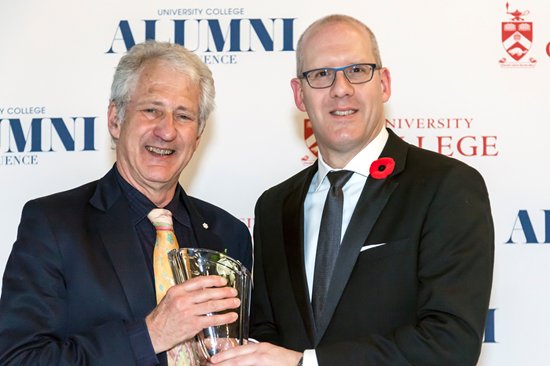 On Thursday, November 6, our Artistic Director Lawrence Cherney was named one of University College's Alumni of Influence of 2014 (above, on left, accepting his award from Professor Donald Ainslie, Principal of University College).
More than 170 alumni, students, and friends of University College gathered at Hart House 2014 for the third annual Alumni of Influence Awards Gala, a celebration of distinguished UC graduates.
---
Lawrence fondly remembers his time at University College, as a graduate from 1969:
Many UC Graduates will recall the days when the Laidlaw Library included the entire first floor as a reference and study area adjacent to the Quadrangle. I spent many hours on the first floor of that library, and was particularly fond of taking study breaks in that tranquil and beautiful Quad. It remains remarkably tranquil to this day, in spite of its proximity to the core of Toronto.
Many years later in 2005, after Soundstreams had already collaborated a number of times with composer R. Murray Schafer, I asked him to meet me one warm spring day in that Quadrangle to see if some of that magic might rub off on him.
On the spot, I asked Murray to think about writing a choral opera for Soundstreams to be staged at night in that space. About six weeks later, the scenario for a new Schafer opera, The Children's Crusade, arrived at my doorstep, clearly inspired by the mediaeval atmosphere. The original idea was that different scenes would be performed in different spaces at UC, both inside and outside the Quad, with the audience moving throughout the evening. Eventually the cast grew to be nearly 100 singers, musicians, actors and dancers, to the point where we couldn't possibly stage it at University College.
In 2009 Soundstreams did end up staging The Children's Crusade in a derelict warehouse on Dufferin St., in a co-production with Luminato that opened the Festival that year. But had it not been for the magic of the UC Quad, a major work by Canada's greatest living composer might never have been born.
Lawrence Cherney, UC 1969
R.Murray Schafer explains his new composition, the opera The Children's Crusade.
---
Thirteen of this year's 14 honourees attended, mingling with current students and winners from previous years at the cocktail reception while a string quartet played in the background. Marking the start of the ceremony was the procession of award recipients, led by a bagpiper to the stage.
Presiding over the event was master of ceremonies Alexa Petrenko, a UC alumna and host of Classical FM 96.3's Sunday Night at the Opera. Principal Donald Ainslie gave opening remarks, and Tony Clement, MP for Parry Sound-Muskoka and a UC alumnus, brought greetings from the Parliament of Canada.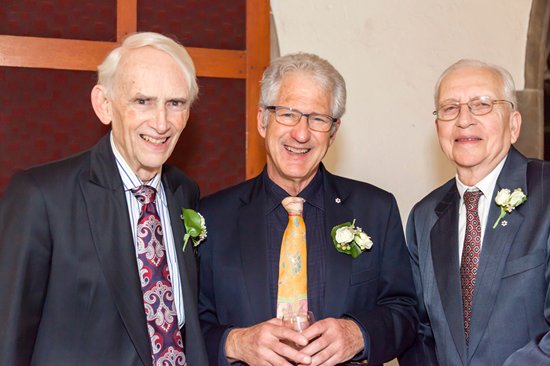 From left to right: John McKellar, UC 1959 and Soundstreams donor; Lawrence Cherney; Ronald Gould, UC 1955