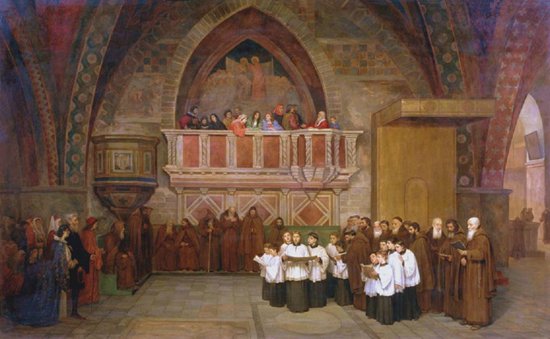 The Christian service of Vespers or evening prayers, refers to the earliest office in the Roman Catholic Liturgy, dating from the second century. It was also referred to as the Office of Lights, given that it was celebrated at the hour that candles were lit in the Church, not only for light, but for symbolic purposes. Vespers liturgy also exists in the Orthodox, Eastern Catholic and Lutheran churches. The basic structure of the service is the singing of psalms interspersed with congregational responses and hymns. Over its long history, Soundstreams has presented other Vespers, most notably those of Sergei Rachmaninoff (most recently sung by the Latvian Radio Choir in our 2012 presentation). In the case of this evening's Marian vespers, the choices of texts are made to celebrate the Holy Virgin Mary, including Mary's song, the Magnificat.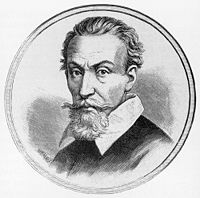 Tonight's concert, featuring Choir 21, orchestra, and conductor David Fallis, presents two contrasting Marian vespers, namely those of 17th Century Italian master Claudio Monteverdi (1567–1648) (photo at left) and contemporary Canadian composer, Gilles Tremblay (b. 1932). As different as these two works are, given their separation in history and the circumstances relating to their creation, there are also some striking parallels. Both Monteverdi and Tremblay sought to unify the musical language of plainchant with their own new stylistic approaches. In Monteverdi's case it was a matter of finding a way to use Gregorian psalm settings in a manner that would be compatible with the emerging Baroque style that he was creating almost singlehandedly. And although with Tremblay it was 20th Century modernism to be reconciled with plainchant, the artistic task was notably similar. Both Marian vespers were written when these composers were mature artists and their achievement with these works stands among their most significant religious compositions.
Claudio Monteverdi published his Vespro della Beata Vergine of 1610 as he was coming to the end of his time as court conductor for the court of Vincenzo I of Gonzaga in Mantua and subsequently becoming conductor at San Marco in Venice. The work is dedicated to Pope Paul V (1605–1621). There has been speculation that Monteverdi's intention with this ambitious sacred work was to impress the Pope and win an appointment at the Vatican. However, when he succeeded with the appointment in Venice he may have in fact found himself in a more liberal jurisdiction that would allow him greater artistic freedom. His Vespro della Beata Vergine contains a rich array of musical forms (psalms, motets, a hymn, a sonata and the Magnificat itself) which in its full performance lasts nearly 90 minutes. In tonight's presentation, conductor David Fallis has chosen to include only those pieces which are also found in the Tremblay Les Vêpres de la Vierge. David has assembled an orchestra made up of musicians who are accomplished in authentic Baroque performance practice, playing the Monteverdi on authentic Baroque instruments.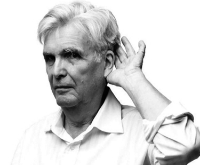 As striking as the sound world of the early Baroque Vespers is, that of Les Vêpres de la Vierge by Montreal composer Gilles Tremblay (photo at left) is equally so, especially in its use of a modern orchestration. Tremblay uses percussion, winds and brasses as the sonic signature for his vespers, although he does include the portatif organ and a double bass among the accompanying ensemble. Tremblay's Les Vêpres de la Vierge was completed in 1986 and performed in France at the Abbey of Notre-Dame de Sylvanès on the occasion of the 850th anniversary of its founding. Tremblay wrote that, "The spoken word served as my guide, with all the flexibility afforded by duration, space, repetition, melisma and silence, so as to intensify and magnify a word in the manner of the ornamentation of Gregorian chant. In Les Vêpres de la Vierge, I endeavored to articulate this enduring relevance as it had been done throughout history. I was astonished to discover the harmonious affinity between the Gregorian and modern idioms and how they complemented each other. This contact was an exhilarating shock." Tremblay was also impressed by the remarkable acoustics of the Abbey. He dedicated the work, "…to my friends of Sylvanès who, in the footsteps of its architects, make it a living resonance." This is Soundstreams' second production of Tremblay's masterpiece, having presented the work in 2001 with Ars Nova Copenhagen, the Elmer Iseler Singers and soprano Jane Archibald.
David Jaeger is a composer, producer and broadcaster based in Toronto. He was the creator & Executive Producer of the long-running CBC Radio Two contemporary music series, Two New Hours.
Top image: Mikhail Botkin. Vespers in the Church of St Francis in Assisi. 1871
---
Click here for more information, or to buy tickets to Vespers, November 25, at Trinity-St. Paul's Centre.