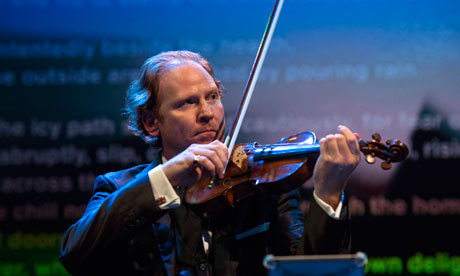 Antonio Vivaldi's Op. 8, published in 1725, is a collection of 12 concertos grouped under the collective title The Contest Between Harmony and Invention. The first four of these concertos are The Four Seasons. Harmony and invention can be understood in this instance as the interplay of absolute music and descriptive music. It's arguable that the constant appeal of these four concertos lies not only in the artfulness of their composition, but also in the delightful tension between the programmatically evocative themes and the purely musical unfolding of these clever themes into full concertos. These pieces have also been constant sources for arrangement, adaptation and re-composition through the ages. The writing of descriptive music has, of course, been one of the longest standing traditions in all styles of music. In fact, past Soundstreams commissions of works such as Harry Freedman's Valleys also employ this tradition. In tonight's concert we have musical descriptions of the Alaskan landscape, the Mojave Desert, and the four seasons themselves.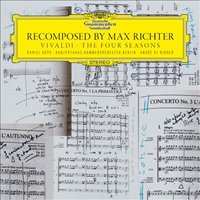 The Deutsche Grammophon record label approached German-born English composer Max Richter to participate in their Recomposed series, which normally features remix artists. Richter proposed that he would re-write Vivaldi's The Four Seasons rather than re-mix existing recordings. He said he would prefer "to create a new score, an experimental hybrid, that constantly references 'Vivaldi' but also 'Richter' and that is current but simultaneously preserves the original spirit of this great work." Richter, a former student of another famous re-composer, Luciano Berio, said "I wanted to get inside the score at the level of the notes and in essence re-write it, re-composing it in a literal way." He found that "Vivaldi's music is made up of regular patterns and that connects with postminimalism, which is one strand in the music that I write." Richter approached British violinist Daniel Hope for the soloist role in The Four Seasons Recomposed, and Hope agreed, saying that, "It was so well written it didn't need many changes."
Canadian composer Paul Frehner describes his new composition, Mojave Dreaming, receiving its world premiere tonight, as a "waking dream" of a hot Mojave Desert landscape. The work, commissioned by Soundstreams with the generosity of Michael and Sonia Koerner through the Koerner Foundation, and his fourth Soundstreams commission, was composed this past summer, which Frehner calls a disappointing one for heat seekers in Ontario. He was approached by Soundstreams to write music for string orchestra, harpsichord and electronic sounds that would complement a program containing The Four Seasons Recomposed. This is a work in three parts, each of which depicts an aspect of the desert environment. The first section, Heat Haze, is languid, inspired by the blurring effects seen when hot air rises and mixes with cooler air above. The second section, Haboob depicts a dust storm, with gathering energy and intensity. In the midst of the storm a solo fiddler appears, playing fast, arpeggiated solos that might not be out of place in the Vivaldi concertos. Finally, this accumulating energy resolves in Dust Devils in which fast, spinning motives describe the phenomenon of whirlwinds that often appear in the dessert. It's the fastest movement, marked "furioso." There's another Vivaldi connection, as Frehner includes the conceit of placing brief descriptors throughout the score. Much as Vivaldi describes "The barking dog" in the second movement of Spring or "Languor caused by the heat" in the first movement of Summer, Frehner describes "Distant sounds and sights emerge unfocused" in Heat Haze and "A fiddler can be heard, playing figures" in Haboob.
In his 1992 work Dream in White on White for string quartet, string orchestra and harp, American composer John Luther Adams describes his inspiration from, "the treeless, windswept landscape of Western Alaska." He writes, "For much of the year, this is a place of seemingly endless, pristine whiteness. Dream in White on White is a musical response to these landscapes." He says, "The sounds are predominately long, broad washes of whole & half notes – 'white notes' of a different sort. The scoring – with predominant harmonics, unstopped tones, mutes and no vibrato – creates peculiarly 'white' tonal hues."
From the extreme climates of Alaska and the Mojave, to the cycle of seasons, the contest of harmony and invention plays on, and our senses are reawakened to vivid new depictions in sound.
David Jaeger is a composer, producer and broadcaster based in Toronto. He was the creator & Executive Producer of the long-running CBC Radio Two contemporary music series, Two New Hours.
Don't miss The Seasons on Sept 30 at Koerner Hall. Tickets start at just $20 and can be purchased here.