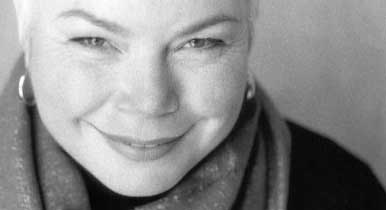 Susan Worthington joins Soundstreams this week, officially taking over as Executive Director at the beginning of September. We chatted with her via email to find out about her inspiration for working in the arts, several of her favourite career moments, and passions outside of the office.
Soundstreams: What inspired you to go into music and the performing arts as a career?
Susan Worthington: Having grown up in a musical family where almost everyone played an instrument and we often attended orchestral concerts and the opera, I have always felt akin to the profession. From an early age I wanted to sing, especially in choirs, and with this passion for choral singing and an aptitude for organizing I was fortunate to have had the opportunity to practice both things together in my first arts administration job as the manager of a symphonic chorus. I have also been fortunate to have exceptional mentors who have been a great inspiration to me along the way.
SS: What is your favourite part about putting on a concert or show?
SW: The sense of anticipation that occurs at the moment when rehearsals are completed, the audience is settled in their seats and the artists are about to step onto the stage. Add to that, watching the faces of composers and writers the very first time they see/hear their work up on its feet in front of an audience.
SS: Tell us about a few career highlights that you are most proud of and why?
SW: The choir of 3,500 children who sang flawlessly at Copps Coliseum for the Hamilton Sesquicentennial Celebrations after a year of preparations and rehearsals; being a member of the development team for the Canadian International Tattoo which continues as an annual tradition in Hamilton; developing the Composer Librettist Laboratory at Tapestry Opera into a place where artists are encouraged to explore the art form of opera and their deepest creative places;  producing amazing works on Canadian opera that move and inform audiences and to see some of those works being performed by a new generation of singers like the Bicycle Opera.
SS: Outside of music, what are your passions?
SW: I love the water – swimming, boating, spending time on the beach; I love to travel and have a long list of places that I still want to visit; attending theatre and going to the movies and; PBS television.
SS: What is your favourite piece of music and why?
SW: Beethoven's Missa Solemnis Opus 123 for choir, soloists and orchestra
A work that has not achieved the renown of other compositions by Beethoven, this work is extraordinarily difficult both to learn and perform for all of the performers, and in particular for the choir. It reflects Beethoven's immense desire for peace in the world and peace within one's self, is joyful, despairing and sometimes irate, and contains a quote from Handel's Messiah in the Dona Nobis Pacem. When all the elements of this work come together it's an extraordinary experience for audiences and performers alike. For me, it's heaven on earth from both perspectives. 
Lightning Round
Favourite City: New York – no, London – wait, Prague
Worst Airport: Pisa, Italy
Guilty Pleasure Song: Bohemian Rhapsody by Queen
Best Concert Hall: Musikverien, Vienna
Favourite Restaurant: O&B Canteen