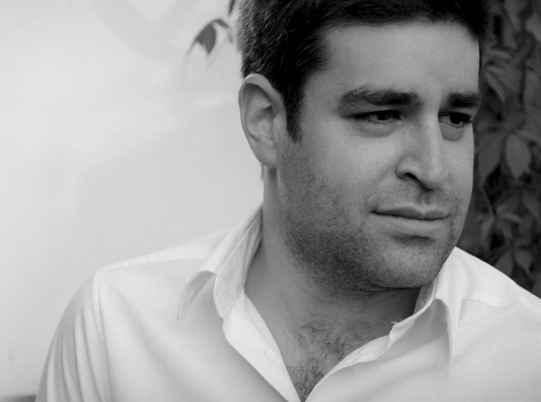 Did you know Soundstreams Artistic Director Lawrence Cherney was a member of the National Youth Orchestra of Canada (NYOC) from 1964-1966? Our Salon 21 on July 17 features five talented young musicians from the 2014 NYOC as well as the music of their 2014 Composer In Residence, Jordan Pal. We chatted with Jordan via email before the Salon to get a sense of his inspirations, musical mentors and what it's been like working with the NYOC this summer.
1. What made you want to be a composer?
I've always been deeply passionate about music, well at least as far back as I can remember. It's such a powerful art form: the colours, textures, limitless possibilities of this art, its rich and varied history, its expressive capabilities, how it can suspend time. It has had a powerful grasp over my imagination for a very long time. 
When I was in high school, a friend introduced me to Berlioz's Symphonie Fantastique. Somehow, that gave way to Stravinsky's Rite of Spring, and I was hooked. For a young, curious-minded musician, those works took hold of me, leading to other composers and their works. Having played jazz guitar for some time, composition was a natural extension of my creative urges.
2. Are there themes you find yourself coming back to when you write your music? What are they?
The idea that nature can stir our emotions in a deep and profound way drives my creative output. Since art is intended to reflect beauty, and really nature is beauty in its most elevated form, my work attempts to forge a deeper connection to our natural state. Recent pieces, including my triple concerto, Starling, and new works The Afar and Into the Wonder, both for orchestra, explore these themes. In these works, I try to evoke the splendour of nature by representing through music the non-linear, boundless, and instinctual processes at work in nature's phenomena. Like flocking starlings, the idea that music can be based on processes that are poised at the moment of change, to be spontaneously and almost entirely transformed, is of great interest to me. I believe that art has the power to remind us of the scale and beauty of it all.
3. What kind of music do you listen to? What's your preferred way of listening to music?
I'm not really limited to one style of music. If it's well crafted, and interesting, it doesn't really matter what style it is. However, I do have a deep love for the standard rep, especially Beethoven and Brahms. Other influential composers include, Sibelius, Honegger, Stravinsky, Debussy, Prokofiev, Ravel, Ligeti. 
Strangely enough, I do my best listening in the car. 
4. Who would you call your most important musical mentor and why? Do you consider yourself to be a mentor for anyone?
My most important living musical mentor is composer Gary Kulesha. In addition to the support he has shown my work over the years, his instruction during my doctoral degree at the University of a Toronto was instrumental to my progress as a composer. Gary has a brilliant and subtle way of teaching that in many ways helped me develop my compositional voice during what was an important developmental period. His tutelage has also inspired the way I mentor my own young composition students.
5. What has it been like working with the National Youth Orchestra of Canada? Tell us a bit about the piece of yours that they will be premiering and what inspired it.
The NYOC is this amazing organization that has helped define orchestral music in Canada for the past 50+ years. It has been a tremendous honour to reside as their composer-in-residence, and to be a small part of the indelible mark they leave on Canadian music history. It's also an exciting opportunity to write a piece for a very large orchestra of roughly 100 members. I'm looking forward to engaging with their young and vibrant musicians during rehearsals of the new work.  
A bit on the piece I wrote for them: The Afar is a dramatic orchestral showpiece inspired by the creative-destructive forces at work in the Afar Depression of Northeastern Ethiopia, one of the Earth's most unpredictable, impressive, strangely beautiful and "geologically hyperactive regions." Here, the tectonic forces – their converging, diverging, grinding, shifting and expanding – are splitting the African continent in two, slowly giving way to a new ocean. The work attempts to capture the same natural processes that are fiercely and freely transforming the Afar Depression. The piece is eruptive, stirring, and always in motion: pushing and pulling, expanding and contracting, developing and decaying. The music can be bold, but also fleeting and lyrical, a variability in tone that is intended to capture the parallel that exists within the Afar Depression (and nature, by and large) – that the natural world is forever destroying but recreating itself anew. Like most of my recent work, "the afar" is a testament to nature's ever-changing magnificence.
LIGHTNING ROUND
Favourite City: Paris
Worst Airport: Charles de Gaulle
Guilty Pleasure Song: Please Forgive Me by David Gray
Best Concert Hall: Symphony Hall in Boston
Favourite Restaurant: Scaramouche