Hungarian-Canadian mezzo-soprano Krisztina Szabó has become highly sought after in both North America and Europe as an artist of supreme musicianship and stagecraft. Soundstreams is thrilled to be working with Krisztina for the first time on Airline Icarus, where she is creating the role of the Flight Attendant. We chatted with her via email in May to find out how she got started, some of her favourite roles, and how to cope with frequent flying on an opera singer's schedule!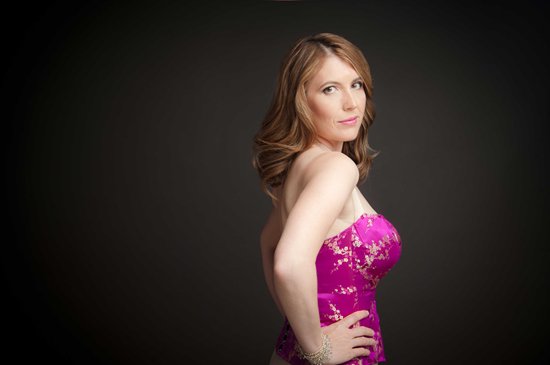 Soundstreams: When did you first know you wanted to be an opera singer?
Krisztina Szabó: Becoming an opera singer was not a sudden revelation, but more of a gradual discovery. I think I didn't realize that I wanted to be an opera singer until I was already on the path to doing it! In fourth year university, I got the lead part in Vaughan-Williams' Riders to the Sea and it made me realize that I thrived being on stage. It was enough to make me re-think being an Education major and start to pursue a degree in performance. And somehow, everything fell into place.
SS: What have two of your favourite roles been, and why?
KS: It's so hard to choose! I love every role I do… it's so much fun to inhabit someone else's skin, to say (well.. sing!) and do things you would not get away with in real life. But if I had to pick, off the top of my head, I loved being the very saucy Musetta because she is just so full of life and spirit… she is passionate and over the top, but she also shows her heart and vulnerability. And she has men wrapped around her little finger… so that's obviously fun to play. And I loved playing the Pilgrim in Saariaho's L'amour de Loin. The music was amazing and the aria in particular was one of the most beautiful and emotionally satisfying things to sing. 
SS: How is working on a brand new opera different than working on a classic? Which do you prefer?
KS: Working on a brand new opera and a classic don't really differ that much in terms of how you approach the roles. Of course, musically it can be very different, and each presents certain challenges. I love to be able to do both, actually. I do love doing brand new opera because I get the unique experience of being one of the first, if not the first, person to delve into that role, that music, create that character. There are not a zillion recordings of other people singing it, so you can't be compared to how so-and-so sang it. I love that freedom. And what can I say? I love new opera because I like the challenge of new music!
SS: As an opera singer, you need to fly all over the world. How do you feel about flying and what are your tips for making air travel as painless as possible?
KS: I am probably the worst flyer ever. And the irony that I have a career where I have to fly constantly is not lost on me! On the one hand, I have the usual crazy opera singer concerns about getting sick when I get on a plane (and that one seems to have come true on pretty much every flight I have been on recently). But, to top it off, I can't eat airplane food because it makes me nauseous, and after some disastrous flights (one where I had to be wheeled off the plane in a wheelchair because I hadn't eaten a bite for an overseas flight and was too weak to walk off the plane), I always pack snacks and/or a lunch. As well as problems with motion sickness, I also get nervous when turbulence hits (visions of plunging into shark infested waters is one of my biggest nightmares). As for making air travel as painless as possible… well, I would say pack snacks, make sure you have everything and anything handy that makes you feel comfortable and relaxed: headphones, music, neck pillow, drugs! And good luck!    
SS: If you could go back and give your just starting out self a few words of advice, what would they be?
KS: Take more languages, have more fun, don't stress out so much.
LIGHTNING ROUND
Favourite City:  Chicago
Worst Airport:  JFK
Guilty Pleasure Song:  Jennifer Lopez, On the Floor 
Best Concert Hall:  Wexford Opera House
Favourite Restaurant:  Pizza e Pazzi
Don't miss Krisztina in Airline Icarus, running June 3-8 at Ada Slaight Hall in Daniels Spectrum. Tickets start at just $20 and can be purchased here.