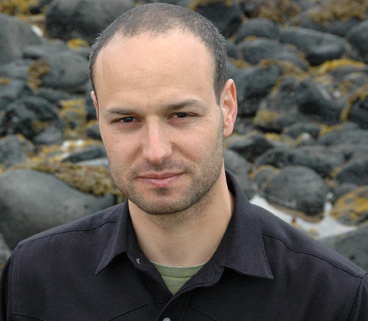 Anton Piatigorsky is an award-winning writer of fiction, plays and librettos. As a playwright, he is the recipient of two Dora Mavor Moore awards for best new play, the Summerworks Prize, and the 2005 Siminovitch protege award for playwrighting. We chatted with him via email to find out how his partnership with Brian Current on the opera Airline Icarus began, the writer's role in opera versus theatre, and how his studies in religion have informed his work.
Soundstreams: How did you and Brian meet and decide to begin working on Airline Icarus?
Anton Piatigorsky: Brian and I met years ago through our wives – they were old high school friends. It was a lucky coincidence. We quickly realized that we would like to work together, so when Brian got a commission from a small opera company in Vancouver, he approached me. I had just written a poem about air travel, and he was thinking about a haunting airplane crash that he'd read about in the paper. Once we had established our common ground and interest, we got to work.
SS: How has Airline Icarus changed since you both began working on it?
AP: The changes have gotten smaller and smaller with each passing year. Opera is so labor intensive for the composer, and requires a fixed text, so for me the changes have been fewer and further between than for Brian. As he was working out the details for years, my changes were often on the level of a word here or there – this one was too long, that one didn't have the right sound, etc. The libretto has gotten shorter over time, more succinct, and more poetic.
SS: You are best known as a playwright (Eternal Hydra, work with Stratford and Soulpepper) and author (most recently with The Iron Bridge). How is the writer's role different or similar in opera compared to these other mediums?
AP: I think characters' psychologies work differently in a play than they do in an opera. In a traditional play, so much happens underneath the text, in the realm of subtext. It's about what the character wants beneath what he or she is saying – that's where the actor's primarily work lies. In opera, however, the music lives richly under the text, which means that the singers/actors have much less opportunity to create full character psychologies. I think a libretto need to be more direct, with less subtext, than a play. A librettist has to say what a character feels more directly. At the same time, there is so much room for poetry in this form. A great libretto, I think, is as much a poem as it is a play, maybe more so.
SS: We were interested to note that you studied both theatre and religion in university. Why this double major? How have your religious studies informed your career as a writer?
AP: Theatre and religion have always been two sides of the same coin. Live performance is a ritual that creates meaning for everyone present – performers and audience alike. Ideas and beliefs are embodied, adapted, and developed. The same goes for opera. I've always been interested in the process of ritual, so I never really saw much of a gap between the two disciplines. My interest in religion and religious systems continues to fuel my writing in all forms.
The Maniac Star production of Brian Current's opera Airline Icarus is presented by Soundstreams June 3-8, 2014 at Daniels Spectrum. Visit the Soundstreams event page to buy tickets.