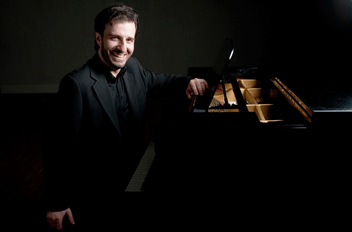 We have been developing our relationship with pianist Serouj Kradjian over the past four years, as a performer in Ashes in the Wind (2010) and Piano Ecstasy (2013), as well as in Tango! (2011), for which he was also a featured composer with his piece Tango Melancolio. We spoke to Serouj via e-mail about his passion for flamenco music, new interpretations of traditional music and what's coming up this season for his own company, Amici Chamber Ensemble.
What draws you to flamenco music?
Experiencing the unique atmosphere in flamenco "tablao"s (where the flamenco shows are held), while living in Spain. The infectious rhythms played on the guitar, the percussion and palmas; unpredictable yet strictly organized. The dancing, the singing of the tunes which really come from the deepest end of the soul, and the joy, the pain and the pride, which the combination of all this, represents.
Piano is an unusual instrument for flamenco, how does your instrument help this style of music come to life?
I really think both the percussive and lyrical/singing character of the piano complements the guitar very well in flamenco and in a way they complete each other. It's a combination rarely explored, (Paco de Lucia & Chick Corea collaboration comes to mind), but it is no surprise that both Albeniz and De Falla have chosen to write their flamenco-influenced pieces for solo piano.
You have also explored tango and Armenian folk music in your work. How do you stay true to the traditions of these styles while keeping them relevant to modern audiences? Do you find that audiences are fairly open to new interpretations of work like this?
I really have to immerse myself in the tradition, whether physically being in the place where the musical style originated, and/or doing a lot of research and a lot of listening to numerous versions of each piece of music I am re-arranging. I feel folk music will always be relevant to audiences because it speaks to them, it unites them.   Innovation never escapes the criticism of a few, but you achieve an immediate connection with the audience , when you have approached the folk roots of the music you perform, with care and respect.
Toronto audiences will also recognize you, cellist David Hetherington and conductor/clarinetist Joaquin Valdepeñas as the Artistic Directors of the Amici Chamber Ensemble. In your opinion, what is your biggest strength as an artistic director triumvirate?
In the last few years we have truly achieved a good chemistry on and off stage, on both artistic and organizational matters, which has truly made Amici have its distinct voice in innovative programming and music-making. The very successful 25th Anniversary season , and our Juno for Best Classical Album in 2013 attests to that.
What are you most excited about in Amici's 2013/14 season?
I think this season we truly start a new chapter for Amici. We have moved our concerts to RCM's intimate and wonderful Mazzoleni Hall. I am excited to play Schoenberg's monumental "Verklaerte Nacht" in its excellent but rarely performed piano trio arrangement, to have the brilliant violinist Lara St. John join us for a program that stretches from a Bach Sonata for violin and harp, to Armenian folk songs; and you really can't go wrong with a concert title like "American Berserk"!
LIGHTNING ROUND
Favourite city:  Barcelona
Worst airport:  Heathrow
Guilty pleasure song:  Bohemian Rhapsody (Queen)
Best concert hall:  Koerner Hall
Favourite restaurant:  Sushi on Bloor
Hear the Serouj perform at Reimagining Flamenco on November 13 at Trinity-St. Paul's Centre.  Tickets start at just $20 and are available here.