Lawrence has been following the work of Riho since attending a performance of his Karen Kieser Prize-winning composition, squall, in 2011. He was immediately struck by the young composer's talent and knew that he wanted to support and encourage his talent. Ave Maria is Riho's first commission from Soundstreams. We chatted with Riho, who was beginning a new year at the Curtis Institute in Philadelphia, via email about his career path, inspirations and the advice he received from Arvo Pärt himself.
Q. What led you to become a composer?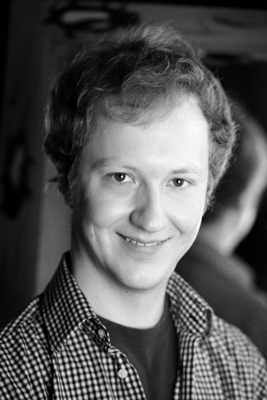 R.M. I grew up in a musical household and many of my earliest memories involve music. At the age of five, I started piano lessons and then violin when I was six. Both of these lasted until grade 11 or so. In hindsight it is clear that I was not meant to be a performer. I had a strong dislike for performing as a soloist and I was not very interested in interpreting the music. I was always more fascinated with the history of the piece I was playing, the composer's life, his oeuvre, style, etc. Thinking back, it seems that piano and violin lessons were the first steps on a path that was meant to lead to composing.
I began composing in high school. My earliest compositions were short solo piano works, followed by some chamber music, including a piano trio which was performed by the Gryphon Trio in 2006. In April 2006 Helena Tulve, a composer from Estonia, came to Toronto for a concert of Baltic music and stayed at our house. I showed her some of my compositions and she then invited me to study with her in Estonia. At the time I had decided that I would study economics and pursue music as a hobby. However, I quickly accepted her invitation, applied and was accepted to the Estonian Academy of Music and Theatre.
Q. What inspires your work?
R.M. It was in the midst of my studies in Estonia that I realized that the vast majority of my favourite music is sacred. I still feel that sacred music sheds light on something extremely beautiful and eternal. It's very difficult to put into words. Once I came to this realization I knew that I would need to spend a great deal of time exploring this.
Q. You have now lived and studied in Canada, Estonia and the U.S. How has each place shaped your process and work?
R.M. I spent four years studying composition in Estonia (Bachelor's degree – Estonian Academy of Music and Theatre [EAMT]), two years in Canada (Master's degree – University of Toronto) and am currently studying in Philadelphia at the Curtis Institute of Music.
Living in Estonia placed me in the midst of my heritage. It brought an abstract past (conveyed to me through the memories of my grandparents) into the living present. While I did take school seriously, I also realized that the most important aspect of my education would take place outside of school. A few months after school started, my friends and I founded a choir called Noored Eesti Hääled (NEH), which means "Young Estonian Voices." We focused mainly on performing music by the choir's members. We held concerts all over Estonia and it was through NEH that I learned to write choral music. Later on, we expanded our repertoire to include early music and traditional Estonian music.
By beginning my post-secondary education in Estonia, I was inadvertently becoming a member of the young generation of Estonian musicians. My bachelor's degree included several subjects on Estonian music, including the theory and analysis of Estonian folk music (runo song), the performance of Estonian folk music (taught by Veljo Tormis) and the history of Estonian music. The latter, taught by one of my most memorable pedagogues (a woman named Tiia Järg), was much more than just a dry, academic approach to music history. Tiia Järg took us on excursions to cemeteries, to the grave sites of past generations of Estonian musicians. She described in great detail the trials and tribulations of our musical nation under the oppression of occupying regimes, from Imperial Russia to the especially brutal Nazi and Soviet occupations. By living and studying in Estonia I was unintentionally repairing the many links that were severed when my grandparents and great-grandparents were forced to flee their beloved homeland. Thinking back, this was deeply therapeutic and has formed my musical psyche perhaps more than anything else.
My academic education at EAMT also included several subjects on early music. The Estonian music scene strikes me as having quite a large focus on early music. There are frequent and well-attended concerts of early music in the great churches of Old Tallinn throughout the year, performed by local and international collectives. I was able to attend several concerts of the music of Tallis, Orlando di Lasso, Perotin, Josquin, Palestrina, etc. These concerts were so cathartic, that, for me, they represent the very pinnacle of musical experience.
My decision to return to Toronto to do a Master's degree in composition was perhaps one of the best decisions in my life. This is, in no small part, thanks to Christos Hatzis, whose eclectic musical and personal background, in combination with a warm and charismatic personality helped me undergo an aesthetic liberation. It was while studying in Toronto that I whole-heartedly embraced simplicity, repetition, minimalism and tonality. It was also during my time in Toronto that I began to receive many exciting opportunities that gave me the confidence to pursue composition. These include the Ensemble Contemporain de Montréal's bi-annual cross-Canada tour featuring four young composers, working with exciting groups such as the TorQ Percussion Quartet, receiving awards and prizes including the Karen Kieser Prize in Canadian Music and the Tecumseh Sherman Rogers Graduating Award. In Toronto I began to receive regular commissions and started to feel more and more like a professional composer. These years also gave me the confidence to strive to new heights and believe that it is indeed possible to pursue the life of a composer. When I told Christos that it my intention to continue my studies in the U.S. he immediately told me to apply to the Curtis Institute.
The Curtis Institute of Music has been described as one of the best places in the world to study music. It is a tiny school with an acceptance rate of 3.2%, making it America's most exclusive post-secondary institution. Situated in Philadelphia, it is an extremely intense, exciting, and at times an overwhelming place. One former student described studying at Curtis as being analogous to swimming in a pool of gold. While Curtis is an unbelievably demanding school, it is also an incredibly nurturing and inspiring environment and its motto is "learn by doing." All Curtis students are treated as young professionals and are provided with countless opportunities to realize their own potential in their field. Curtis provides us with all the tools necessary to achieve our dreams, and I have, on more than one occasion, heard it being described as one of, if not the, best music schools in the world.
My experience of American life and culture is very much linked to my experience of Curtis. Spending every day with such talented young people is inspiring and humbling. The composition department at Curtis provides us with countless opportunities to write music that gets performed, often more than just once. One of the main features of the Curtis composition department is the opportunity to write an orchestral piece every year, which gets performed. This is in addition to a multitude of opportunities to compose chamber, vocal and solo works.
You met Arvo Pärt while you were studying in Tallinn. What is the best advice he gave you?
R.M. I met Arvo Pärt in the summer of 2011. We spent several hours together in the countryside, where he lives, and talked about life and music. This was one of the most profound experiences in my life. Over the past two years I have found myself often reflecting back on this meeting with Arvo Pärt and on things that he told me.
He told me to be grateful for criticism and that compliments can be dangerous. He also told me that sometimes it is possible to love people only from afar.
What are some the advantages or challenges in writing for a choir?
R.M. My experience with choral music has taught me that more often than not, the simplest solution is the best. Finding out what is the simplest solution is often very difficult.
Lightning Round
Favourite city: Tallinn
Worst airport: Tie between Heathrow and JFK
Guilty pleasure song: Thriller by Michael Jackson
Best concert hall: St. Nicholas' Church in Tallinn
Favourite restaurant: Aed, in Tallinn
Hear the world premiere of Riho's piece, Ave Maria at The Music of Arvo Part concert on October 1 at Koerner Hall. Tickets start at just $20 and are available here.