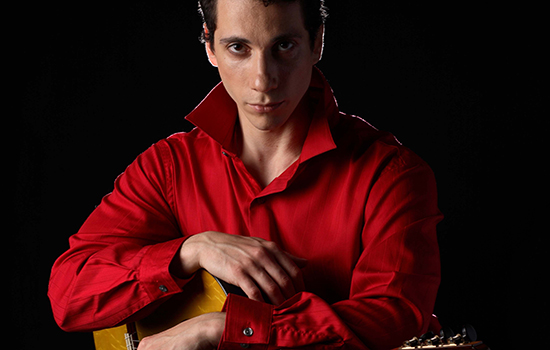 A native of St. Petersburg, Russia, Grisha Goryachev is renowned for his extraordinary musical sensitivity and technical virtuosity in both classical and flamenco styles. Grisha is one of very few guitarists in the world who is reviving the tradition of solo flamenco guitar in a concert setting that was practiced by legendary flamenco masters such as Ramón Montoya and Sabicas.​
​How did he get started?
Grigory Goryachev began to play the guitar at the age of six, studying first with his father, Dmitry, an acknowledged master teacher of the instrument. Following his debut at the age of nine, Mr. Goryachev enjoyed an extensive career as a child prodigy, performing regularly before large audiences in the most prestigious concert halls of St. Petersburg, Moscow, Minsk, Riga, and other major cities in the then Soviet Union. He also appeared regularly on Soviet television and radio and was featured in numerous major newspapers and magazines. His participation at the age of 13 in the T.V. marathon, Revival of St. Petersburg, was transmitted live to more than one hundred countries worldwide.
When did he first move to North America and how has this influenced his style?
Following a tour of Spain, Goryachev was invited to play for flamenco legend, Paco de Lucía, who soon after personally intervened in support of his application for an American visa (subsequently awarded in the year 1997 on the basis of Extraordinary Ability).
​Since coming to the United States, Mr. Goryachev has continued his lifelong love affair with flamenco while deepening his involvement with the classical style. His repertoire now includes classical solos, chamber music and guitar concertos and more than six hours of flamenco solos by such composers as Paco de Lucía, Vicente Amigo, Manolo Sanlucar, Rafael Riqueni, and others. As the flamenco repertoire is for the most part unpublished, Mr. Goryachev has performed the somewhat incredible feat of transcribing entirely by ear from the recordings.​
How does he balance keeping tradition alive while also playing with modern interpretations?
​Grisha strives to keep alive older flamenco masterpieces that now exist only on records, by performing them in concerts. Grisha exposes the audiences to some of the best guitar compositions flamenco has to offer. Instead of merely copying, he creates his own interpretations of these masterpieces, using dynamics and tone colors usually associated with classical music.
​What role has the web played in his success?
Grisha's YouTube videos have collected over two million views and many notable comments.
What instruments does he play?
Grisha currently plays the following instruments:  flamenco blanca and flamenco negra by Lester DeVoe (Nipomo, California); 7-string flamenco negra by Matthew Morello (Ogden, Utah); and classical guitar also by Matthew Morello.
See Grisha perform live in our Reimagining Flamenco concert on November 13 at Trinity-St. Paul's Centre. Tickets start at just $20 and are available here.