Airline Icarus is about the intersecting thoughts of passengers aboard a commercial airplane. It explores themes of hubris mixed with technology, the forced intimacy of strangers and flying too close to the sun. Over the course of the work, the plane becomes brighter and eventually vanishes.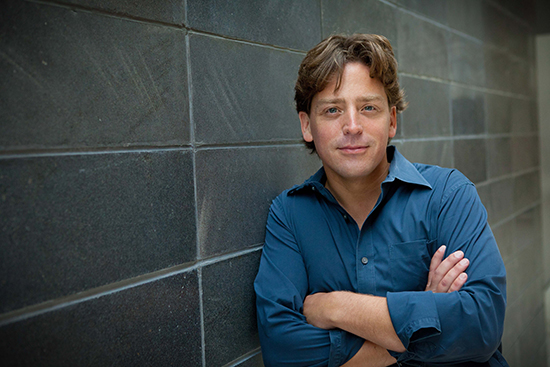 Composer Brian Current
In September of 1983, a Korean commercial flight was shot down over the Soviet Union's eastern coast. The Soviets said they thought it was a spy plane. Rather than hit the plane directly, the missile struck its wing, and the plane "fell like a leaf for an excruciating 12 to 15 minutes". I couldn't help but to think about the people aboard for years after.  Later when visiting with Anton Piatigorsky, a fantastic playwright living in Toronto, I told him I was looking for ideas about theatrical works and mentioned the Korean airliner. Anton told me that he had just written a poem about the absurd little society we often take for granted aboard commercial flights and the unsettling mixture of hubris and technology: we'll make small talk and watch movies while inches outside the window is a glorious cloudscape or freezing certain-death.
He also proposed the perfect metaphor for what we were trying to do: Icarus. Icarus , you'll remember, flew too close to the sun and his wax wings melted and he fell to the earth in a blaze of light. His father, Deadalus, looked for him, crying: "Icarus, where are you!" and "Damn this art!"
To me, one of the most interesting parts of the myth is that Icarus disappears, in much of the same way that people involved in airline tragedies disappear, or the way the astronauts of the Space Shuttle Columbia disappeared in a blaze of light over Texas.
Deadalus's cries of "Damn this art" are heartbreaking, not so much because Icarus has crashed and died, but more that he knows that we are doomed to keep building things- airplanes, computers, operas – in an endless cycle of trial and error that sometimes leads to disastrous consequences.
The development of Airline Icarus has followed a circuitous path to production and I'm very grateful to all the directors, curators and musicians who have supported the piece along the way. The work was commissioned in 2001 by Opera Breve Vancouver and composed between 2001 and 2005 in consultation with their director, the inimitable John Juliani. Workshops and excerpts were presented by Tapestry New Opera, Soundstreams, New York City Opera Vox Festival, Fort Worth New Frontiers and upcoming at Opera America in New York in 2014.  In 2011, Airline Icarus was awarded the Italian Premio Fedora Award by a jury chaired by Louis Andriessen and received a staged premiere in Verbania Italy in April 2011, where I had a wonderful time on the podium working with passionate actors, designers and musicians from the Milan area.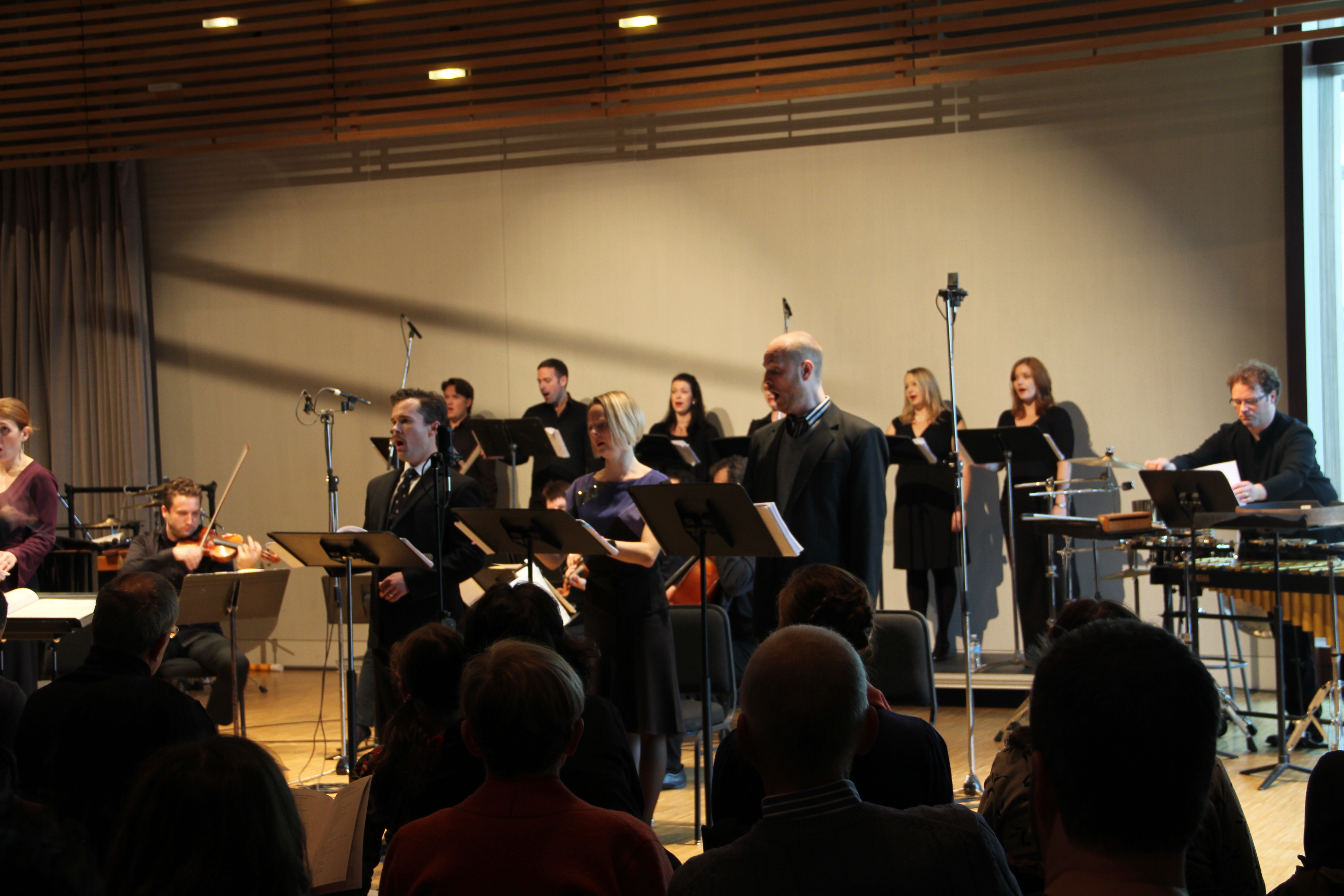 Airline Icarus in concert at The Royal Conservatory
In November 2012 it was presented in concert at The Royal Conservatory in collaboration with Maniac Star, the rehearsals of which formed the basis of a NAXOS recording which will be released this fall. I can't tell you how thrilled I am that the fully staged Maniac Star production of Airline Icarus, directed by Tim Albery, will be presented as the final Soundstreams event of this season. Huge thanks go to Lawrence Cherney, who has been following the development of the piece since those early workshops in Vancouver, and to all those at Soundstreams for making this production possible.
Airline Icarus runs June 3-8, 2014 at Ada Slaight Hall in Daniels Spectrum. Tickets are available now and can be purchased here.