In November, we will spend a week developing Juliet Palmer's opera Sweat and in June we will present a fully staged version of Brian Current's Airline Icarus at the Daniels Spectrum. The idea behind the Salon was to give those in attendance a sense of the process required to get a new opera or musical from concept to production. I was joined by Mitchell Marcus, Artistic Producer at Acting Up Stage and Tracy Michailidis, Producer for Musical Works in Concert at Summerworks for a lively discussion about our individual experiences with developing these types of projects. The evening also included two performances of works in development: Fire by Anna Chatterton (libretto) and Adam Sakiyama (composer) and Miss Shakespeare by Tracey Power.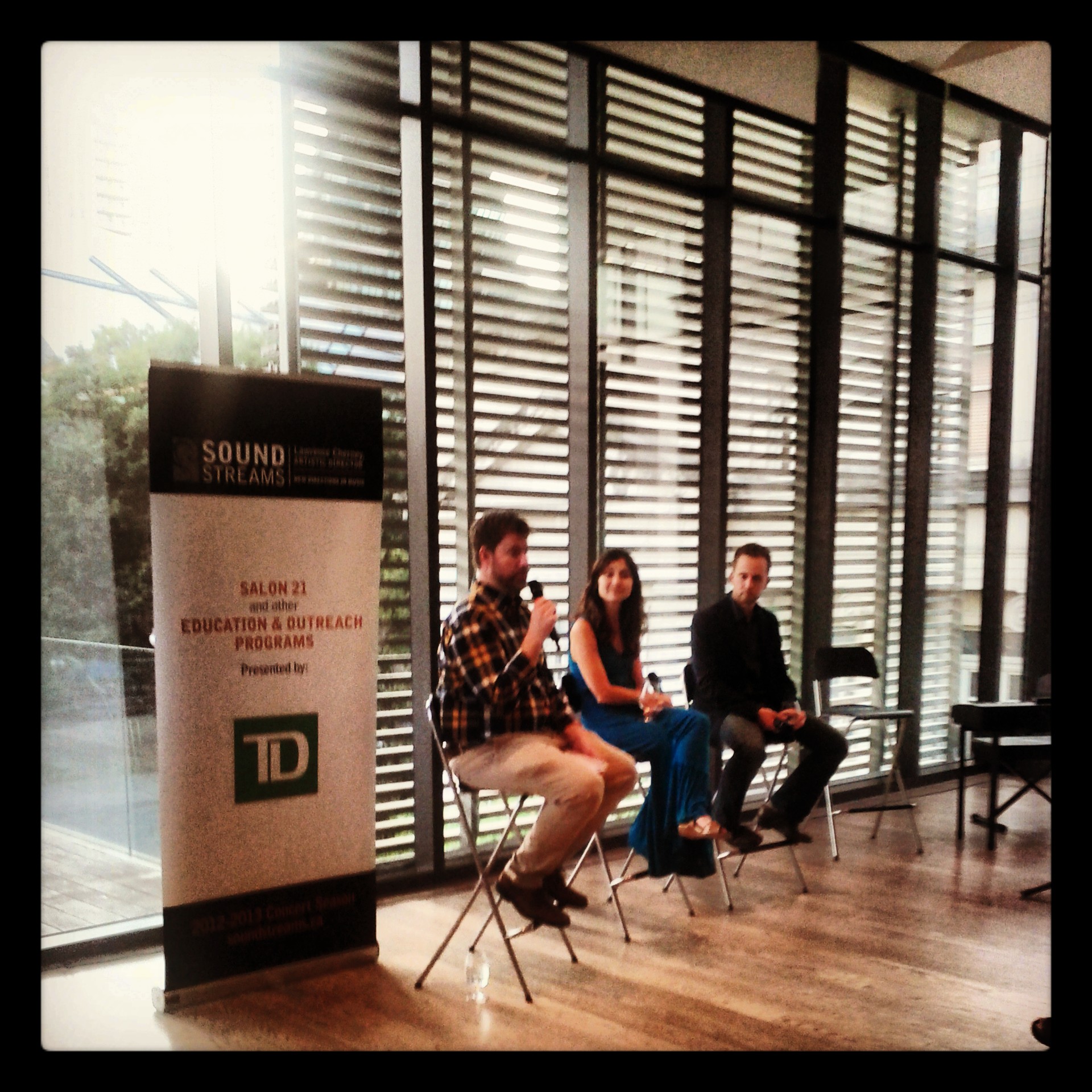 Everyone on the panel agreed that there was no cookie cutter method to making new musical works. The process was often dependent on the creative team (e.g. composer, librettist, director, etc.) and the resources available to support and nourish the piece. Tracy spoke about her experiences working at the Charlottetown Festival at a time when there was a significant investment in the development of new musicals. She admitted that a lot of the shows that came out of that period didn't have much of an afterlife, largely because there wasn't the time or resources to invest in making them better. Mitchell spoke of various programs in the US (including the BMI Musical Theatre Workshop in NYC) that pair librettists and composers to write mini musicals. Acting Up has started a similar program entitled NoteWorthy which he hopes will eventually generate new main stage productions for the company. He noted that it was a lot more difficult to get donors to support the development of new work and that the financial realities of a producing season often forces companies to choose work that the public already knows and loves.
One of the interesting debates that emerged out of the audience Q&A was when to let an audience into the development process. There were those in attendance who felt that the audience was a critical piece of the equation and was not included in the process, only seeing a work when it was complete. The panelists were in agreement that while the audience is crucial to any performance, there needed to be careful consideration as to when they are brought in. New work development time is often limited to begin with and the time available should be focused on testing and refining the piece as opposed to preparing it for public performance.
Watch the performance of Fire by Anna Chatterton (librettist) and Adam Sakiyama (composer):