Kyle Brenders: I have a tendency to think of musicals as Fosse and Broadway but I have a feeling this isn't what Acting Up Stage produces. Could you tell us a little bit about your company and how it fosters "new" musical theatre?
Mitchell Marcus: While large-scale commercial musicals are certainly a key part of the Broadway and entertainment ecology, my interest has always been in the art form of musical theatre (which does sometimes cross over into the Broadway scene as well). Words are limited in the expression of emotion, but when music is added, the breadth of what you can express can be so much bigger and more profound. Thus, I love hearing stories and human expression through music and find it to be a very satisfying and complex experience when song is used in theatre. In that regard, at Acting Up Stage we look for stories that provoke thought and explore the contemporary human condition through song. In many cases we program new work that has been developed (and premiered) somewhere else. In some cases we are developing original works with local writers that will premiere on our stage, fostering a creative environment for the creators and investing in their development process. Either way though, the work that we do really looks to musical theatre to provide a meaningful experience for our audiences.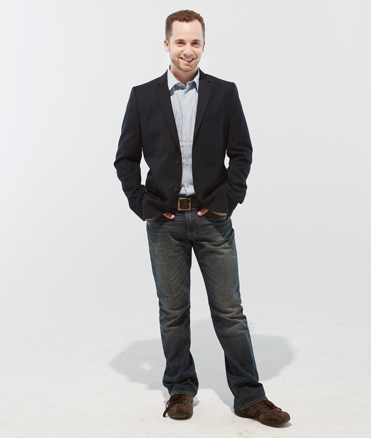 Photo Credit: Adam Rankin
KB: Would what you do be considered off-off-off-off-Broadway or is it something else? Does success on Broadway have an influence on the work you're really excited by?
MM: I'm not really concerned about our relation to Broadway at all. Some of the work we have programmed actually has been on Broadway (after all many works manage to be both artful and commercial at the same time) and some never have a shot of getting there. In terms of new work, I'm not that interested in developing material for Broadway. I am looking for work that is emotionally engaging and musically exciting. While economics factor in, I need to make sure that I'm appealing to 200 people a night for a 3-4 week run which enables greater risk taking then planning for an open ended run with 1500+ seats per night. Ultimately, I think that the most interesting work on Broadway starts in not-for-profits without Broadway ambitions, so I suspect that by not caring too much about the Broadway conventions or limitations, we'll ultimately develop something that gets there anyway!
KB: Who are some of the up-and-coming composers/librettists/playwrights that we should look out for?
MM: I don't want to pick favourites locally (as there is lots of work I admire), but there are a few people we have collaborated with recently that I think are really worth checking out:
Zachary Florence 
Bryce Kulak
Adam Sakiyama 
Akiva Romer Segal and Colleen Dauncy – http://colleenandakiva.com/
Bram Gielen
Reza Jacobs
In the United States there are tons of writers to watch, but here are three on my current playlist:
Pasek and Paul
Dave Malloy
Joshua Schmidt
Plus there are my favourites who aren't really new anymore but are still on the fringe of Broadway, trying to push the form in new directions:
Adam Guettel 
Jeanine Tesori 
Michael John Lachuisa
In all of these cases I've given names of composers or composer/lyricists. Book writers in musicals are hard to come by. It is one of our key focuses in our development of new work in Canada… trying to cultivate interest and skill in our great Canadian playwrights for musical theatre work.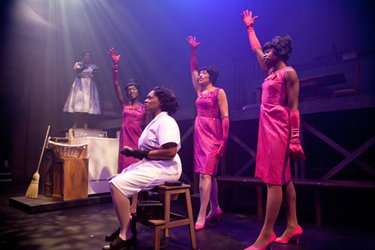 Photo Credit: Joanna Akyol
KB: Musical theatre is a multi-disciplinary form—it brings together music, theatre and dance—I'm just wondering what the relationships between the disciplines are in the process of creating a new work.
MM: Well… like in anything else, I think the text (music, lyrics and book) comes first which is a major collaboration onto itself. But I am a big believer in getting as many collaborators in the room as possible as early as possible. Knowing how interdisciplinary the final result will be, I think it's very valuable for writers to hear from directors, choreographers and designers early on in the process to get their responses and reactions. After all, West Side Story would be a very different show if it wasn't for Jerome Robbins' choreography. You never know which idea from which discipline will unlock the key to the storytelling. But ultimately I think that sort of collaborative dialogue allows the possibilities for the story to unfold, giving the writers potential directions to explore.
KB: Where are some places that people can go see/hear new musical theatre? In Toronto as well as in other cities?
MM: Sadly, it's very difficult to see or hear new musical theatre in Toronto. Of course I recommend attending Acting Up Stage Company productions to get a sense of what we do. Musical Works during the Summerworks Festival offers 2-3 readings of new musicals each year. Theatre 20 has committed itself to new musical theatre and Sheridan College is work shopping and presenting a few new musicals each year. Beyond that, Fringe and Summerworks tend to be the breeding ground for original musical works with mixed results.
Since it was originally an American form, the US is still the best destination to see original works. Most of the regional theatre companies in New York produce at least one original musical each year, and organizations like the National Alliance for Musical Theatre offer terrific annual conferences to see a series of original pieces.
KB: One last question slightly off topic. Being a new dad myself, I'm wondering how you balance family and work?
MM: It's hard. But the kids do provide some perspective that the arts are not the be all and end all. I try to be as present as possible for my kids when I'm at home and as present for my work when I am at work without letting the two worlds collide. But it sure makes it strange to go from budgets to diapers!
If you'd like to learn more please join us at our free Salon 21 on August 16, Behind the Curtain, where Mitchell and others will discuss and perform some new musical theatre works.