Erik Satie has become a darling of the avant-garde. Brought back from obscurity by John Cage, the 20th century composer enfant terrible, Satie has been an important influence on American experimental and popular music.  His music has become well known since the mid-sixties due to its connection to ambient and meditative music. For example, his piano works are often used not as short concert pieces, but instead as a way to relax or "chill out." Case in point is this recording that pairs the sound of rain with Gnossienne no.3 (original for solo piano arranged for guitar):
One might be tempted to think that this is a misrepresentation of the original work but in fact it's not too far from Satie's own aesthetic.
As our Salon 21 audience found out, some of his music is meant to be heard as background music. Satie called this music "musique d'ameublement," literally "furnishing music" but commonly referred to as "Furniture Music." The idea was that this music would replace the popular music performed in people's homes (remember that recordings did not exist yet!). The two pieces presented at our Salon 21 were good examples of this music: short compositions, usually no longer than four measures of music that are repeated infinitely (see score below in Satie's own hand).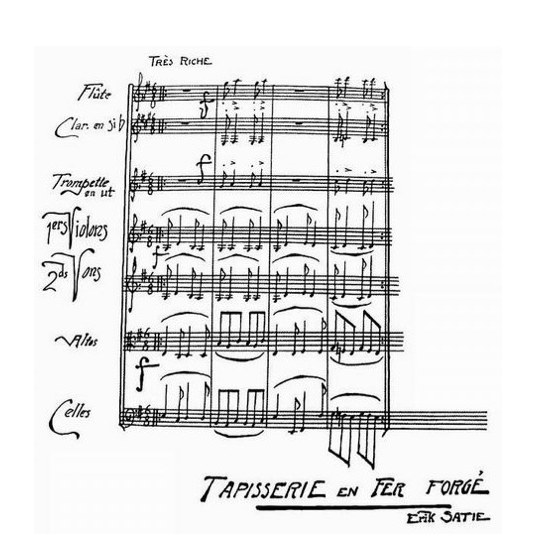 Below is a little taste of our Salon 21 performance, where we repeated the same short piece of music for half an hour! My own experience (I was one of the clarinetists) was not of exhaustion but of bewilderment. At times my concentration was on playing the music—making sure I was in tune, trying to relaxing my hands and jaw so as not to cause too much repetitive strain, listening to the balance between parts, etc—and at other times I just experienced the sound of the music in the room and how it mixed with the audience. I had an out-of-body musical experience where I was simultaneously able to listen to the conversations happening in the audience and perform the music. Usually my concentration is focused 100% on the music so my perception of the audience is quite minimal. It was a really unique experience both for the performers and the musicians, and I can understand why it may have caught some people off guard. Though Satie intended it to be in the background it does still sit very firmly in people's acoustic environment.