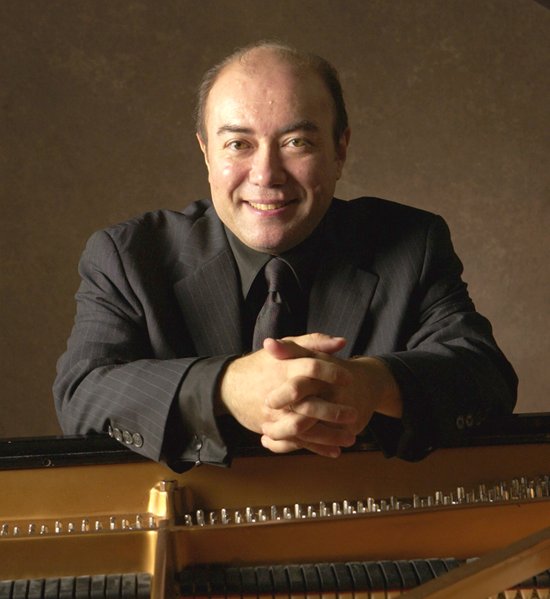 James Parker is one of Canada's most accomplished pianists. As a member of the acclaimed Gryphon Trio, he has become known as a premier performer of contemporary music. On April 26, he will be performing in Soundstreams' Piano Ecstasy concert alongside eight other pianists. This week, Jamie took some time out of his busy schedule to sit down with Soundstreams' marketing intern, Jesse Dietschi, to answer questions about the upcoming performance.
SS: How is playing with multiple pianists different from performing with more traditional chamber groups?
JP: Playing with multiple pianists is just like playing with more traditional chamber groups except that it's a hell of lot LOUDER. When you play piano duets, you need to be sensitive to delicacies of tone quality, balance, voicing, pedaling and so on. When you play two-piano repertoire, then things start getting out of hand in terms of volume, and by the time you get to multiple pianos, we all just sort of regress to our caveman roots. YOU PLAY LOUD. ME PLAY LOUDER. UGGGH. WHERE FIRE?
SS: Many composers, including John Cage and Glenn Buhr, have used the repertoire of The Beatles as source material for variations and arrangements. What do you think makes The Beatles' music so well suited to this purpose?
JP: You can never have enough Beatles. They still set the standard for me in terms of what a rock group can do. You hear their artistic growth from the earlier albums like Twist and Shout to Abbey Road. With George Martin's inventiveness, you already get string quartet, woodwind instruments, sitars and so forth in their arrangements, so the music is easily transcribed for a wide variety of instruments.
SS: Steve Reich pioneered many compositional techniques, including the "phase-shifting" techniques utilized in Six Pianos. As a pianist, what aspects of Reich's writing do you find the most challenging, and the most exciting, and why?
JP: Any music that involves 'phase-shifting' means that YOU HAVE TO PAY ATTENTION. And minimalism music is easy to drift away into while you're playing it, so you can't let that fully happen. Stay in the zone, but don't zone out. Reich's music is beautiful to listen to – it just washes through and over you.
SS: Both as a pianist and a member of the Gryphon Trio, you perform a lot of contemporary music, including many premieres. What is your process for preparing and performing works that have never been played before?
JP: Premieres are wonderfully exhilarating and somewhat stressful events. You're responsible for releasing a piece into the world so that puts some pressure on you and your colleagues. Obviously, you need to get to know the score as best as possible – so playing through the other parts is a good thing to do. Nowadays, you might get a midi mp3 so you can get a vague idea of what a piece will sound like, but I often don't even bother with those. I've been a part of about 70 premieres now and sometimes they go better than expected, and sometimes they're a struggle to keep together. There's always some excitement on stage and in the audience when you do premieres, which make them fun to be a part of.
SS: This concert is sure to have many young aspiring pianists in the audience. As a highly successful soloist, chamber, and contemporary musician, what advice can you offer these students?
JP: One of things that I talk to my University of Toronto students a lot about is developing two kinds of stamina – physical stamina and career stamina. Physical stamina is pretty self-explanatory but easy to neglect. It includes knowing your body, knowing when you need to practice, eat and sleep. Knowing about vitamin supplements, Chinese herbal pills, Echinacea, oregano oil. We could all exercise more. Try to not eat like an idiot – but of course, we're used to late night receptions, meals, and knowing how important it is to find the nearest best local beer. The bigger challenge is understanding career stamina. You don't go into music because you want to be famous. Well, I suppose you can, but celebrity is pretty fickle – I wouldn't recommend that approach. We perform because we have to, because we can, and because we have a responsibility to composers living and dead, a responsibility to our teachers, colleagues, students, and the need to communicate human expression from the page to an audience. Those of us that have been fortunate enough to receive grants from organizations like the Canada Council, the Ontario Arts Council, the BC Cultural Fund and so on have a sense of responsibility to all Canadians who have given us support through a small portion of their tax dollars. That's why we stay up crazy late hours practicing while most sane people are sleeping – that's why we'll get four hours of sleep and take two planes and drive a rental car to a small town to play a concert that night. But success doesn't happen quickly – you have to work at it, find your artistic voice, be true to your talent, work on new skills, develop a wide network of friends, and think long-term. I also think it's absolutely crucial to have a sense of humour. You need to able to laugh at yourself, at all the crap that life throws at you, and as Chief Correspondent of the Parker News Network on Facebook, I'm under contractual obligation to make fun of violists whenever possible. Talk about mixing business with pleasure!
SS: Soundstreams is celebrating our 30th birthday this year. What do you wish you had known at 30 that you would like to share?
JP: I wouldn't have minded knowing future Stanley Cup winners when I was thirty. But it's all good – what I've learned over the years has happened pretty much on a natural schedule. But I'm a water rabbit Gemini – we're pretty relaxed about most things.
Lightning Round
Favorite City: Vancouver
Worst Airport: LAX  
Guilty Pleasure Song: Loverboy- Turn Me Loose  
Best Concert Hall: Wigmore
Favorite Restaurant: Tojo's
Don't miss Jamie Parker's performance in Piano Ecstasy, April 26 at 8:00 pm at Koerner Hall. Tickets start at just $20. Click here to buy tickets for Piano Ecstasy concert now.