Last Tuesday, I had the privilege of participating in Soundstreams' 30th Anniversary gala, which was held on the glamorous 68th floor of First Canadian Place at King & Bay St. Towering in the heart of the financial district, the tallest skyscraper in Canada is typically known for housing the head offices for the Bank of Montreal. On February 5th, however, the tower served as a beacon for some of the most distinguished and celebrated composers and contemporary music performers that Canada has to offer.
Among those composers were the esteemed James Rolfe and R. Murray Schafer, both of whom were featured in the launch of Soundstreams' newest fundraising initiative, the Variations Campaign. Last year, Mr. Schafer provided Soundstreams with a most generous gift- a theme he composed to help celebrate our 29th anniversary. The theme was comprised of a series of notes that represented the letters of Schafer's last name. This year, as part of the Variations Campaign, Soundstreams created the opportunity for private donors to commission their very own pieces from a roster of acclaimed Canadian composers. These composers would write their compositions by creating variations on Schafer's original theme.
On February 5th, the audience in attendance had the opportunity to witness the premier of the first commission. A generous donation by Mr. John Ing facilitated the creation of a new James Rolfe variation that elaborated on Schafer's letter-association concept, using only the letters of Schafer's last name to create the text, and basing the accompanying harp part on the melodic theme itself. By utilizing a wide range of anagrams, Rolfe developed a whimsical, light-hearted text that had the audience both in awe and laughter throughout the performance. Vocalist Carla Huhtanen and harpist Sanya Eng beautifully portrayed the subtle, detailed work. Below is an extract of the score for this variation.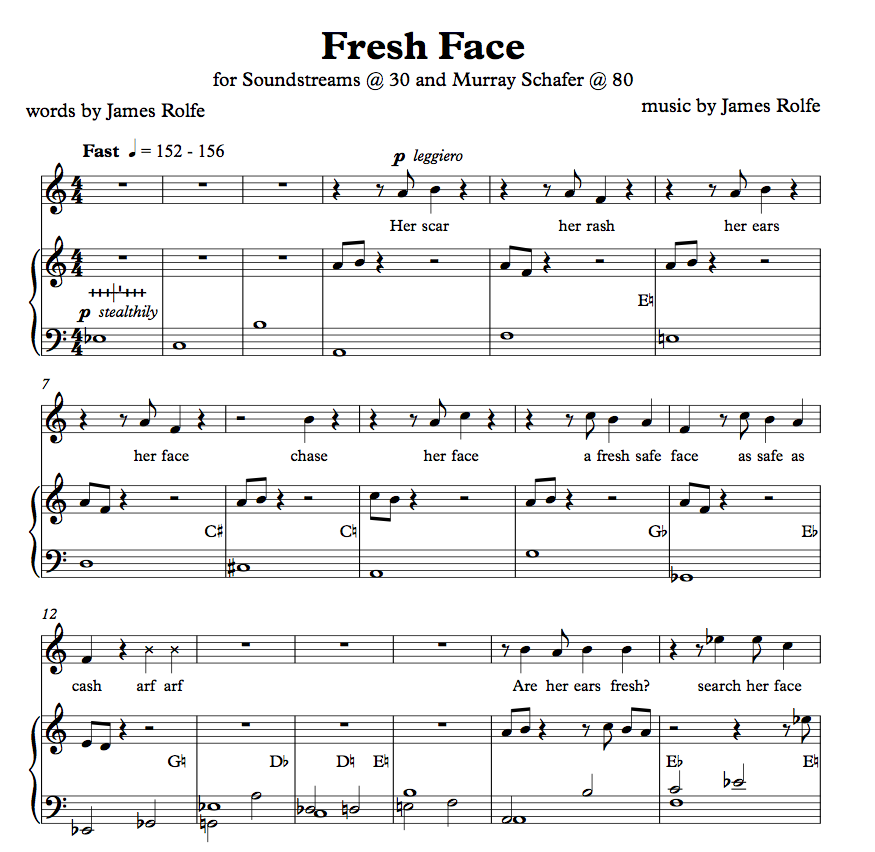 As both a composer and performer myself, I found the evening's celebration of the art of composition to be both inspiring and enlightening. Music performance is frequently recognized, but far too often does the creatively and technically taxing process of generating a musical work from a blank page go overlooked. In terms of conceptual approach, I found Mr. Rolfe's piece to be brilliantly conceived, perfectly encompassing the original idea behind Mr. Schafer's theme, and was the perfect mood and timbre for the atmosphere it was being performed in.
Soundstreams' Variations Campaign offers the public to have the opportunity to be intimately involved in the conception, creation, and presentation of new music, something which is typically only experienced by a fortunate few. Having heard James Rolfe's approach, I am very excited to hear what the rest of Canada's composing community will do with R. Murray Schafer's theme in the coming year!