It's a new year and Soundstreams is happy to welcome Ben Dietschi to the team as the new Metcalf Foundation Intern. Ben has worked with Soundstreams in a volunteer capacity since this past October and now, thanks to the support of the Metcalf Foundation, Ben's role has change to a full time position that will last one year. The program supporting Ben's position provides professional development opportunities for artists, administrators and production staff to provide an entry point into the field. Ben will be assisting Soundstreams in a variety of capacities in order to learn about the various facets of running a successful arts presentation organization. We have asked Ben to tell us a little bit more about himself and his goals for the coming year.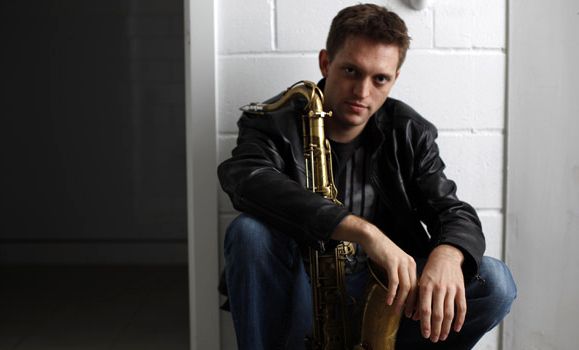 Tell us a little about yourself.
I've been in Toronto for about five years now; I came here from Manitoba for a Masters in performance and composition at the University of Toronto. Since then the city has shaped my artistic growth in ways that I never expected. The cultural vibrancy and intensity of artistic activity in this city has really been all that I hoped it would be.
Along with this exciting internship at Soundstreams, I'm a saxophonist, composer and the artistic director of an emerging concert series called Spectrum Music. In each of these roles I feel inspired and encouraged by the amount of sheer talent in Toronto. Here, or anywhere else in the world it's certainly an interesting time to be involved with contemporary music, with aesthetics melting together across boundaries of culture and genre. I hope that my artistic inclinations reflect an awareness of this.
What do you like most about music?
Although it might sound cliché, I've always believed strongly that music (and all art) plays an important role in reflecting society back at itself. Art teaches us about ourselves in a profound way that nothing else can.
That's part of the reason why I'm drawn to Soundstreams' curatorial approach. Music always has its own intrinsic value, but I think the impact goes up a few notches when a piece or a concert has a more direct reference to the world that we live in.
When did you become involved with Soundstreams? I started volunteering at Soundstreams last fall when an opportunity came up for a development internship. It was a great way for me to contribute to something I'm passionate about while learning a ton. I've enjoyed it from day one, so you can imagine how thrilled I am to be onboard for the year.
Any words of wisdom for fellow interns?
Know your goals for the internship ahead of time. It will help you stay focused on your larger objectives when you get into the nitty gritty of day-to-day tasks. Write out your top objectives and post them somewhere visible so that you shape your days towards them. Also, be open to new people, new ideas and new ways of thinking. Remember we are here to learn so don't be afraid to be honest about what you don't know yet.
What are you looking forward to most in your year with Soundstreams?
As you can imagine, the talent that we see onstage at Soundstreams concerts is equally matched in the team that makes it happen behind the scenes. I'm most looking forward to collaborating with this skilled bunch and learning how they do what they do.
We have a large appreciation for food, especially dessert in the Soundstreams office. What is your favourite dessert?
Ha! Well, that's good news. My dad is Swiss with the appropriate love of chocolate, so there was usually a stash of dark chocolate around the house. Give me some nice dark chocolate and a nice espresso and I'm good to go!
Ben will be helping out our upcoming events, Salon 21: Japanese Music for Percussion on March 4th at the Gardiner Museum and the Fujii Percussion and Voices concert on March 5th at Koerner Hall. If you see him, take a moment to say hello.