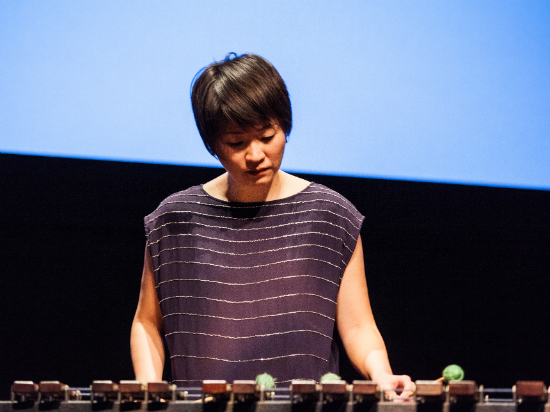 In the last few decades, the use of percussions has exploded onto the contemporary music scene, redefining the very definition of percussion instruments, as well as percussion composition and performance. To better understand the changing sound-world of percussion instruments in contemporary music, Haruka Fujii, a Japanese multi-percussionist and one of the most prominent solo percussionists and marimbists of her generation, has agreed to answer a few questions.
What is the place of percussion instruments in contemporary music today?
In my opinion, percussion as a solo or chamber instrument is very young: it is not even a hundred years old. Musicians keep coming up with newer techniques; essentially, we're still in the middle of finding out its full range of possibilities – which is an exciting time!
Can you give specific characteristics that go into composing for percussion?
The characteristic of writing for percussions is there is no set and definite characteristic. We keep inventing new things! Everything that makes noise can become an instrument: you can pick up pens, a glass, or a plate… If you look at my collection of instruments, I have items from an actual junkyard, like car parts, alongside traditional instruments like drums.
How important are percussions in Japan now?
It is very important. Of course, taiko drums are used in every summer festival and religious ceremony. Also, keyboard instruments like marimba are very popular. Most kids at school learn music on these wooden keyboards. So there are now some amazing players in Japan and we have great literature for marimba from the 70s and 80s, percussion's 'Golden Age' in compositional history.
What brings voice and percussion together?
The sound-worlds of voice and percussions are very different, but they both are the most primitive instruments known to man. Conceptually, I think they have a lot of potential to merge into each other.
Don't miss Fujii Percussion and Voices on March 5. Tickets start at just $20, buy tickets for this Soundstreams concert now.