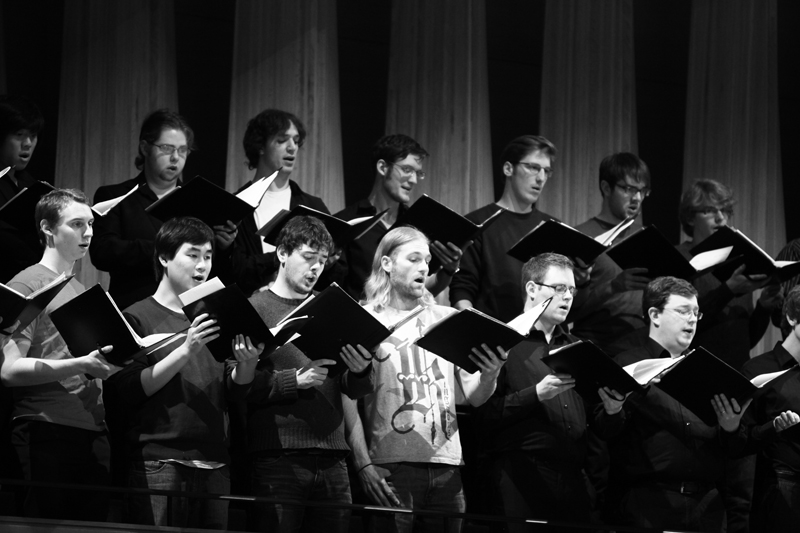 Last week, for five days, 120 choristers came together for 21 hours of rehearsal to create University Voices. Under the direction of Kaspars Putnins, this group sang alongside the Latvian Radio Choir, one of the premiere choral ensembles in the world.
The experience was thrilling: being part of Ana Sokolovic's ASAP 4 SATB (a world premiere!), singing with three other university choirs, and performing alongside a professional choir of such caliber gave us an exciting week.
The repertoire made for an exhilarating concert experience and a very challenging sing, which was met with great effort from all of the choirs. Rachmaninov's All Night Vigil and Schnittke's Choral Concerto showcased the ability of the mass choir, from walls of sound singing fortissimo to breath-like pianissimi. Four2, written by John Cage, used the amazing acoustics of the Koerner Hall to envelop the audience. It was really special to be part of a world premiere especially getting to sing it with newfound choral friends from various provinces across Canada.
This concert with Soundstreams was a great opportunity to perform with like-minded choristers and a professional choir. Working with Kaspars Putnins was an amazing experience, his conducting style is so fluid and confident and he is such a pleasure to be around! Soundstreams is a wonderful organization for new music, and for us as young choristers, the opportunity to sing music outside the regular choral repertoire. We look forward to future years as Soundstreams continues to develop new music and young singers!
Simeon is a 3rd year voice major at the University of Manitoba studying in the History concentration. He has been a member of the University of Manitoba Singers under director Elroy Friesen since 2010, where he is currently serving as Vice-President  for the 2012-2013 season and served as the Social Chair for 2011-2012.