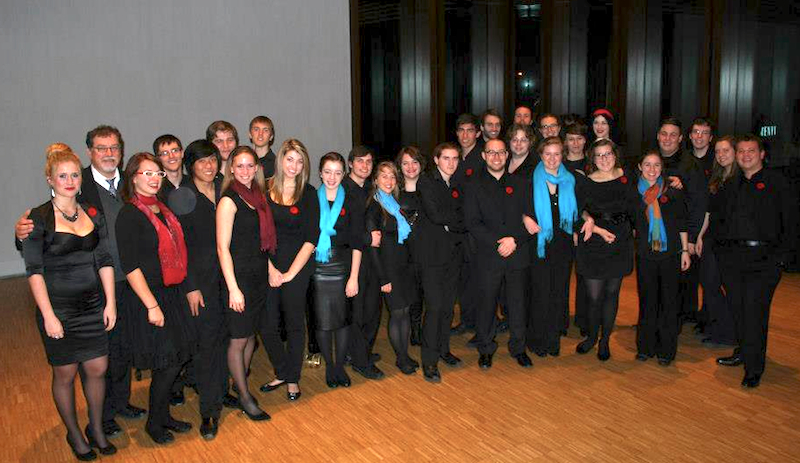 This was my third time during University Voices with the Calixa Lavallee Singers from the University of Ottawa. One thing I can confidently say about this project is that it has been a different experience every year I have participated since 2008.
The days often included 6 hour rehearsals followed by choristers going shopping or a choir dinner. The sound of this choir was arguably the best of the three times that I have done it. I always appreciate the professionalism that each conductor brings to the table and Kaspar Putnins was absolutely brillant to work with. The nuances he was able to establish with this group in such a small time frame was remarkable.
For everyone, a particular highlight of University Voices had to be the rehearsal with the Latvian Radio Choir. I was fighting back tears during the Rachmaninov piece. It was so incredibly powerful, moving and inspiring. Performing Schnittke's Choral Concerto together with 150 voices in Koerner Hall was another highlight. The compositions' rich harmonies and chordal progressions brought together inside the acoustics of the hall made it spell-binding. It must have been written with a space like this in mind.
I feel pub night is an essential event for the participating choirs to become social and well-acquainted with each other, so when I first heard that pub night was cancelled this year, I took it upon myself, with help from Dr. Marta McCarthy to organize it at the pub connected to the Holiday Inn. It turned out to be a huge success as we had around 90 choristers who came out that night.
Overall, this experience definitely brought our choir together and we are stronger as unit as a result. This experience proved to be an excellent networking opportunity and will hopefully lead to working with other choirs on more exciting projects in the near future.
Ryan Hofman is a first year Masters student at the University of Ottawa and has been a member of the Calixa Lavallée Singers from 2008 – 2011 and 2012 – 2013.