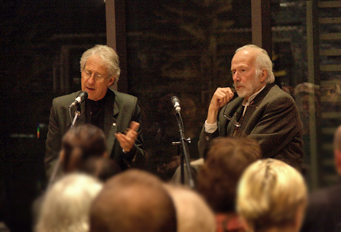 R. Murray Schafer has a special place within Soundstreams. He shares, with our artistic director, Lawrence Cherney, a passion for the larger architectural possibilities of music, the 'big ideas.' Schafer's work is created not simply for conventional concert halls but commonly specifies extraordinary locations (including the woods, lakes, and warehouses), uses unconventional ensembles (six choirs, an ensemble of circus artists), and can last anywhere from twenty minutes to a few hours.
Over the years Cherney has commissioned four major works and performed numerous other Schafer pieces. Many of these works developed over conversations that they had on Schafer's farm, a place that in Cherney's words 'has a timelessness about it' and a quiet solitude that is a necessity for Schafer's creative process. The results of these conversations, four large-scale works, have spanned the gamut from mass choral works sung from multiple balconies (The Fall into Light), to an opera for a massive ensemble with mediaeval instruments, middle-eastern singer and children's chorus performed with a roving audience in an abandoned warehouse (The Children's Crusade). Schafer's work is unlike any other composer of his generation and is something that truly needs to be heard and seen.
Don't miss the Ontario premiere of Schafer's Divine Comedy-inspired choral work, The Love that Moves the Universe, at our Celebrate with Soundstreams concert on Oct 11. Single tickets start at just $20. Visit the RCM website to purchase Celebrate with Soundstreams concert tickets now.