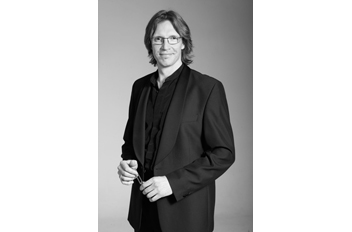 On November 11, Soundstreams welcomes back The Latvian Radio Choir and Kaspars Putnins, the choir's conductor since 1992. A leader in the promotion of new choral music, Kaspars also regularly appears as a guest conductor with leading European choirs such as the BBC Singers, RIAS Kammerchor, Netherlands Chamber Choir, Swedish Radio Choir, Netherlands Radio Choir, Estonian Philharmonic Chamber Choir, Flamish Radio Choir and others.
Soundstreams: How did you decide to become a conductor?
Kaspars Putnins: My interest in choirs was awakened early – my mother had been a singer in the Ave Sol chamber choir since I was three. That group was regarded by many as one of the most interesting choirs of their time. I remember myself sitting in rehearsals or concerts totally overwhelmed with their magical sound. Later, I entered the choir class of the E.Darzins music school (I mention the name of the school because it has been rather important in Latvia. Among it's famous pupils are Gidon Kremer, Mariss Jansons, and Misha Maisky). There we had conducting lessons as part of the curriculum. I liked sports very much as as well when I was a child, but I never actually seriously thought of anything but music as my way in life.
SS: What has been your favourite part about working with The Latvian Radio Choir?
KP: Working with new music, especially the fact that we can work regularly with Latvian and international composers, often in collaboration with artists from other fields – visual artists, stage directors.
SS: In your opinion, why is Vespers often considered Rachmaninoff's "finest achievement"?
KP: Rachmaninoff wrote the All Night Vigil (which is the title of the piece in translation from Russian. The Vespers constitute only the first half of the piece) in dark times, during the first World War after a year of almost complete silence in composition. He was able to finish the piece within a very short period – the sources I have read deliver different information – from an incredible two weeks to less than two months. In either case, it is clear that Rachmaninoff had been overwhelmed with the work, and that in it he was expressing his deepest feelings: his endless love towards his Fatherland, his people and culture. Rachmaninoff wasn't a huge church goer but since childhood he had always been fascinated with the atmosphere of Russian church, the sound of its choirs and the bells. I think that the main reason the All Night Vigil is highly regarded is because it essentially is a message of love; honest, truly beautiful and yet written by a phenomenally skilled craftsman.
SS: You are renowned for your focus on promoting new choral music. Who is one of the composers you are most excited about right now and why?
KP: There are quite a few I would like to mention and they all deserve to be mentioned, but if I have to choose only one I would say Jonathan Harvey. My "why" is similar to what I mentioned about Rachmaninoff's All Night Vigil. Jonathan's music speaks to the most important questions in human life and he is also an artist with a wonderful sense of beauty, fascinating imagination, and fantastic craftsmanship.
SS: Have you performed in Toronto before, and what are your impressions of the city?
KP: My favourite Toronto memories are from when the Latvian Radio Choir sang at the Soundstreams Northern Voices Festival in 2005. The music scene and the arts scene in general were very impressive, the audience was absolutely fantastic, and there was a great, friendly atmosphere on the streets. I am very much looking forward to being back there soon!